Welbeck performance a sign of growth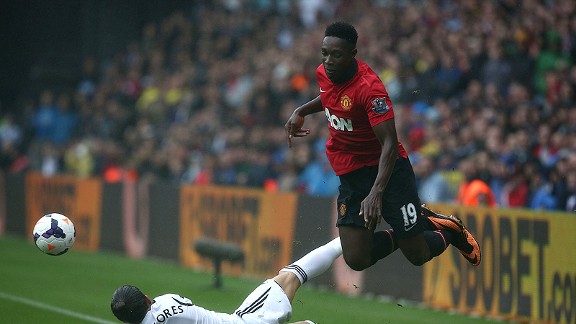 Rex Features via AP ImagesDanny Welbeck had one of the two United braces in their 4-1 win at Swansea.
Well, well, Welbeck. The England forward, who scored twice in Manchester United's very impressive 4-1 victory away at Swansea, seems to have developed a scoring touch over the summer. This was the final element missing from his game, with his technique and build-up play generally acknowledged as very, very good if not outstanding. Alongside Danny Welbeck, Robin van Persie was typically superb, netting one with either foot: the first a powerfully dispatched half-volley with his right, and the second a thrilling long-range drive.

- Report: Swansea 1-4 Manchester United

When Manchester United's forwards are in such incisive mood, the fears before kick-off end up looking absurd. In truth, though, they were not without foundation. Until the away side found themselves two goals up within two first-half minutes, they found themselves pressed back on their heels by Swansea's adventurous midfield, with Jonjo Shelvey most prominent in their incursions. Ryan Giggs was surprisingly profligate in possession, and Tom Cleverley often found himself marooned in the middle third, his team-mates often abandoning that part of the pitch for the safety of the edge of their own penalty area. In many ways, the opening of this match resembled the early stages of a UEFA Champions League tie, with Manchester United examining their opponents via a series of gentle jabs.

The Old Trafford side's attack, on this evidence, can expect excellent service this season from Patrice Evra, whose crossing from deep was as much a feature as it had been against Wigan in the Community Shield. On a cautiously optimistic note, they can also expect far more from Antonio Valencia than the Ecuador international delivered last year. Valencia offered defensive solidity in front of an occasionally uncertain Phil Jones, supplied a sharp assist for Welbeck's first, and showed willingness to go outside his man throughout the game, although not with as much success as he would have desired.

The story of this game, though, is that of Welbeck. Van Persie's qualities were already well known, but if the Manchester-born forward is capable of leading the line to lethal effect, that changes the club's options entirely. It puts less pressure on Shinji Kagawa to return to full fitness, and it allays concerns that, in the absence of Wayne Rooney -- whom Welbeck emulated with a sublime late chip for his team's fourth -- Manchester United do not have another starting striker capable of scoring 20 goals a season. The only blot on Welbeck's performance, for which he atoned with that final goal, was his needless loss of possession on the edge of his own area, which allowed Wilfried Bony to score and briefly put Swansea back into the picture. That moment, as much as any, was a small reminder that the forward still has more to learn.

It would be wrong, though, to end on such a note. Lost in most of Manchester United's transfer market frustrations this summer has been the fact that this is a squad of young title-winners, many of whose games are maturing at encouraging speed. Welbeck's composure in attack was every bit as heartening as David de Gea's bravery and speed off his line: Together with their team-mates, they gave David Moyes the ideal first match of the season. As opening statements go in defence of a championship, they don't come much more resounding than "Swansea 1, Manchester United 4".