United head for Swansea with Welbeck in form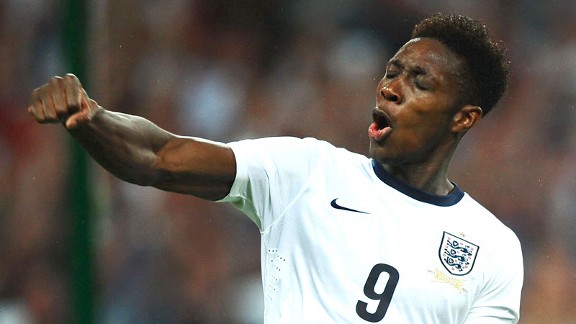 Getty ImagesDanny Welbeck, coming off a strong performance for England against Scotland Wednesday, could give Manchester United a boost Saturday at Swansea.
An injured Manchester United squad will visit Swansea this Saturday in David Moyes' first league fixture as United manager. The Welsh side have looked sharp in preseason and will be hoping to take advantage of the uncertainty surrounding Moyes' team.

First-choice right back Rafael picked up a hamstring injury against Wigan in Sunday's Community Shield and is definitely out. This will likely mean a start for Chris Smalling, who has not impressed for some time. Last season, Swansea's Michu plundered 22 goals, and he has been joined this season by striker Wilfried Bony, who is uncertain for Saturday after international duty with Ivory Coast against Mexico Wednesday night. If Bony plays, he and Michu can be expected to give United's back line a hard time. Nemanja Vidic and Rio Ferdinand will need to put in strong performances to keep the Welsh side at bay.

-Hicks: Swansea could spoil Moyes debut
-United make contact on Ozil, Modric
-Moyes confident on signings

"I think it's the hardest start for 20 years that Manchester United have had," Moyes said this week of United's first five games. With Chelsea and Manchester City not playing until later in the weekend, United would like to notch three points before the others take the field. As recent trophy winners, Swansea demand respect, but United's opening gauntlet means that this is a must-win from the outset.


If United are to win, they will need their front players firing. Robin van Persie reminded the world how good he was at Wembley last week, and the side will look to him for goals. If Gareth Bale is worth £100 million and Luis Suarez is worth £40 million, then at £29 million, van Persie is one of the better buys of the decade.

Judging from England's performance against Scotland on Wednesday, Moyes would be advised to start with Danny Welbeck alongside the Dutchman. Manchester-born Welbeck, who clearly spent the summer in the gym, is a tougher-looking prospect than he was last year. He took his goal against the Scots well and, as a player in form, has earned a start.

In contrast, Wayne Rooney looked short of match fitness and was average at best. After a performance like that, he can hardly complain if he is played in a supporting role. Nonetheless, if Rooney regains fitness and motivation quickly, he could be a crucial figure in the opening five games.


Michael Carrick pulled out of England's fixture with an infection, and this leaves a gaping hole in United's midfield should he not recover. Moyes may be tempted to gamble on youth to fix the problem. Preseason has seen encouraging displays from Wilfried Zaha, Jesse Lingard and Adnan Januzaj. "They have been pushing for a place," former United great Norman Whiteside said this week. Moyes may need to find a way to weave one of them into the side.

The time for talk is nearly over now. It will be a relief to everyone when the transfer window finally shuts Sept. 2. Rooney may not have gotten the move to Chelsea that he had hoped for, but he is still a professional at a top club, and he will be expected to perform. A strong performance against Swansea in Wales would be a good place to start. More so than ever before, United need to begin the season well.

Follow Mark on Twitter @markjpayne