Rooney stay raises questions about Kagawa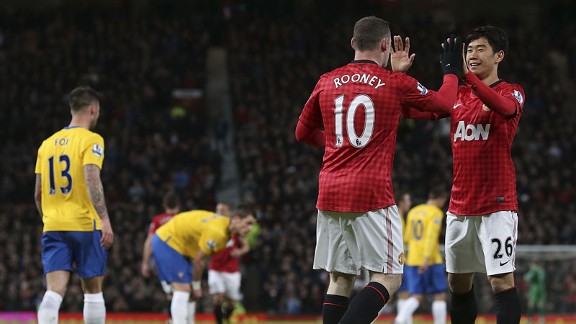 GettyImagesWayne Rooney and Shinji Kagawa: Two into one doesn't go.
And so it seems that Manchester United have won one of the arm wrestles of the summer, with their decision that Wayne Rooney will not be sold to Chelsea no matter what they offer. This is an eminently sensible stance: A rejuvenated Rooney would assist Chelsea in the strongest of title challenges. On the other hand, it raises two awkward questions.

The first, and most obvious, is how Rooney and the club's supporters will respond to this. Having agitated for a move twice in three years, the England forward is now beyond the pale as far as many fans are concerned. Unlike, say, Luis Suarez, the time when Rooney was revered is a distant memory. His resentment at being denied an apparently ideal move will be as great a man-management task as David Moyes has faced.

- Report: Rooney won't be sold

The second question is how this will affect Shinji Kagawa. The Japan international was far from at his best last season, though he still produced some passages of magnificent play despite the injuries, being played out of position, and the inevitable difficulties of settling in. This, though, was slated by many as his breakthrough season as Manchester United's primary playmaker, but the retention of Rooney might have torn up that narrative.

From one perspective, this is a matter for some concern. Kagawa remains coveted by Borussia Dortmund manager Jurgen Klopp, who very publicly professed his admiration at the end of last season. Moreover, the German club are happy to welcome their players back after unhappy spells abroad, as they showed with Nuri Sahin.

Alternatively, though, there are reasons to be calm about all this. At present, Kagawa does not look fully fit, and so this is not yet the most pressing of questions. More importantly, he has also expressed his desire to stay and prove himself at Old Trafford. Given Manchester United's unexpectedly severe set of opening fixtures, Rooney's presence will be of great benefit -- particularly how decisive he was against, say, Manchester City last season.

Moreover, the fact that Rooney may be staying will reduce what might have emerged as a breathless dependency upon Robin van Persie, and will remove some of the pressure from Wilfried Zaha to produce. The issue is what will happen when Kagawa is ready to play. It is unlikely that Moyes will accommodate him and Rooney as two central playmakers behind van Persie, as that would mean playing three at the back in a 3-4-2-1 and three-at-the-back is not an option that Moyes has shown any affection for in the past. It is also unlikely that Moyes will use a 4-3-2-1, in the style of say, AC Milan in 2007, because that formation relied upon three highly combative central midfielders (Clarence Seedorf, Massimo Ambrosini and Gennaro Gattuso) and, at present, Manchester United have none of those.

It seems most likely that Moyes will opt for a 4-4-1-1, with either Rooney or Kagawa playing behind van Persie, while one of the two players is moved out to the left wing. Neither would be thrilled in that role. Jurgen Klopp will remain bemused, perhaps even more vocally so, if one of the finest attacking talents of his generation is marooned out on the flank, and one of the Premier League's best forwards of the last decade would feel equally miffed if he doesn't merit a chance to play through the centre. On one hand, it's difficult to envy Moyes regarding this dilemma. On the other hand, given the variety of attacking options that Manchester City currently boast -- Stevan Jovetic, Sergio Aguero, Edin Dzeko, Samir Nasri, David Silva, Alvaro Negredo -- it could be an excellent problem to have.