Modric would be a welcome addition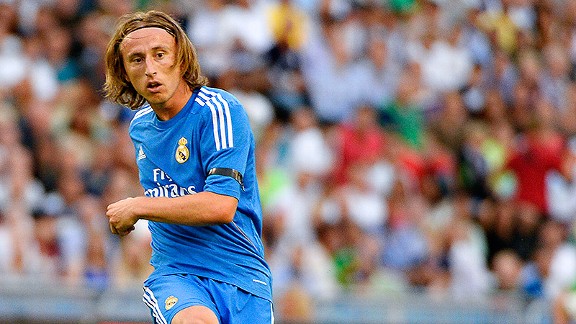 Jonathan Nackstrand/AFP/Getty ImagesLuka Modric could well be swamped in midfield against Bilbao.
Despite the windy pronouncements emerging from Manchester United earlier in the summer, there has been no discernible change in the squad that finished in May, other than the retirement of a waning Paul Scholes. With news emerging that United officials are in Madrid, could Luka Modric become the first major signing of the summer?

- Okwonga: RVP's second beautiful moment
- Marcotti, Bennett: Predicting the Prem in 2013-14

Despite these latest reports, United head into this weekend's opener against Swansea without any new recruits, and things may stay that way until January at least.

"If we don't [make any signings], I'm happy to go with what we've got," said David Moyes in the wake of United's victory over Wigan on Sunday.

Despite dominating possession against a team from the division below, United made fairly heavy work of Wigan and, were it not for Robin van Persie's excellence, could have struggled to victory.

More accomplished teams will be able to shackle the Dutch striker, and United will require someone to open offensive avenues from the top of the midfield. After Sunday, and the past two years, we know that Michael Carrick and Tom Cleverley don't fit that bill.

One man who could do the job is Wayne Rooney, but he wants to play up front. And he wants to play up front for Chelsea too. This week, Gary Neville described Rooney as "irreplaceable" and cited the fact that he was involved in 22 of United's goals last season. This despite the amount of moving around the pitch he did at Ferguson's vindictive whim.

Although United have not lost to Swansea since 1981, the Welsh club start the season with two competitive fixtures under their belts against Malmo in the Europa League qualifiers, in which they excelled. And United are no strangers to losing the opening fixture, going down 1-0 to Moyes' Everton as recently as last season.

Given that is the case, and that any deal for Modric would not be finalized before next week, we have been given a sneak preview of United's expected lineup for the weekend.

Carrick and Cleverley have done admirable work in United's midfield, but they are players who are trained to keep possession rather than orchestrate play. The great strength of United teams from the past was that they attacked teams at the jugular. As minutes tick on in football matches and the opposition starts to get into its rhythm, victory can look less and less assured.

At the weekend, United were fortunate enough to get an early goal. That won't happen every game. It is good that Moyes is confident with the current squad; they are all good players. But one suspects that Chelsea and Manchester City are also happy with the current United squad too. Because they have both improved.

Modric's arrival would be most welcome.

Follow Mark on Twitter.