Van Persie's second beautiful moment of the season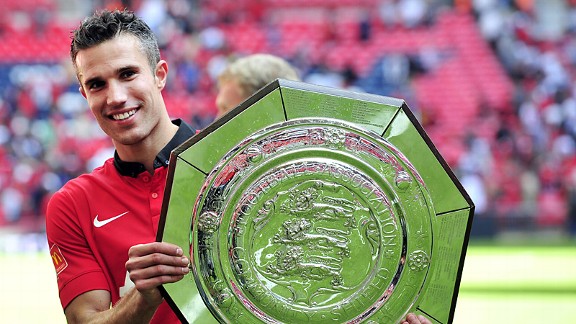 Glyn Kirk/AFP/Getty ImagesRobin van Persie bristles at the notion that reigning champions Manchester United are only third favorites to win the Premier League.
It was Robin van Persie's second beautiful moment of the season. The first, an elegantly angled header, came in Manchester United's 2-0 win over Wigan in the Community Shield, a sweat-sodden relief of a victory. The second moment arrived not in the form of van Persie's clinching strike -- which took a deflection on the way into the Wigan net -- but in an answer that he gave after the match to a particularly brave interviewer.

Van Persie, who has rapidly emerged as this team's talisman, was asked what he thought of bookmakers naming Manchester United as third favourites for the Premier League title. His eyes narrowed swiftly, and it seemed that somehow this Dutchman was bringing an Arctic chill to Wembley. "I don't want to be funny, but we are the champions," came his terse reply. "So third favourites? Can you explain that?" The interviewer, either nervous, respectful or both, let him continue. "I don't really care," said van Persie, which didn't seem strictly true; he was far from indifferent about this slight. "I believe in this team, and I believe we will compete until the end again."

- Bennett, Marcotti: Predicting the Prem: 2013-14
- Payne: Van Persie wins Moyes first trophy
- Brewin: Moyes takes first step out of SAF's shadow
- Gary Neville unsurprised by lack of signings

Van Persie doesn't use social media much these days, but if he ever did send out a Vine video, it would be good for him to post that "third favourites" speech of his. If he did, it would surely go viral. There was something uniquely Manchester United about it. Van Persie had a point, too. During this season of relative transfer inactivity at Old Trafford, it has been easy to forget that his club was celebrating the championship at the beginning of May, propelled to the finish line by almost thirty of his goals. What's more, though some of those victories were closer than the final table might reveal, it's not as though Manchester United failed to win against the big teams, defeating both Chelsea and Manchester City away from home.

Viewed through van Persie's red-misted spectacles, the upcoming season suddenly looks more promising. Everton's Marouane Fellaini, who would give the team essential solidity through the middle, would be a key capture. Meanwhile, the approach to the year must be similar to that of Mo Farah running the 10,000 metres: Stay within touch of the leaders for months and then mount a devastating sprint finish. This is particularly pertinent given the team's opening schedule, which sees them start against an impressively-strengthened Swansea City, before facing Chelsea, Liverpool, Manchester City and newly-promoted Crystal Palace, which will have a point to prove.

Manchester United will need more than anger to carry them through this opening onslaught. The crucial factor, as it happens, may be the hamstring injury to Rafael, which deprived Wilfried Zaha of someone with whom he could make regular raids down the right wing. All the same, van Persie's spirited rejoinder was a stirring one to witness. Whoever seeks to claim the Premier League title from Manchester United will have a uniquely vengeful Dutchman to contend with -- and they have a hapless ITV interviewer to thank for that.