Van Persie wins Moyes first trophy
Manchester United officially stepped into their new era at Wembley Stadium on Sunday and started much as they finished last season: unconvincing for large periods of time, but with a 2-0 Community Shield victory over Wigan salvaged by the brilliance of Robin van Persie. With the Dutchman on the field, United can never be written off.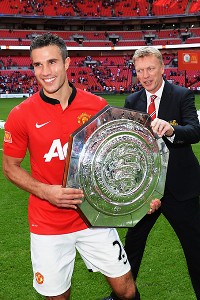 Michael Regan/The FA/Getty ImagesUnited supporters hope Sunday's win was the start of a beautiful partnership between Robin van Persie and new manager David Moyes.
David Moyes opted for a safe lineup that looked suspiciously like a 4-4-2 with Ryan Giggs, Michael Carrick and Tom Cleverley in midfield. United have lost only once to Wigan in their history and managed to beat them 4-0 twice last season. Moyes wanted a result and didn't need to tinker too much with a winning formula.

United were not the only team on the field with a new manager. Relegated FA Cup winners Wigan, led by Owen Coyle after Roberto Martinez left for Everton, improbably beat Manchester City at Wembley just three months ago and were still able to play many of the same personnel. Giant-killer Grant Holt relishes occasions such as these and was always going to require attention.

- United win Community Shield
- Delaney: Rapid reaction

There was certainly no fluidity in United's early play with Wilfried Zaha guilty of losing possession under little pressure. The whole team looked a little nervous. Then van Persie scored a pulsating header after receiving the ball back from Patrice Evra on the wing. The champions remembered who they were all of a sudden.


Zaha strode around the Wembley right wing as if it were a property he had just purchased. Although not everything he tried came off, he appears to be an imaginative winger of invention and bravado. With Antonio Valencia surrendering the No. 7 shirt this week, a starting berth is there for the taking for Zaha. It should be noted, though, that Wigan left back Stephen Crainey did a good job of containing the United man.

Amidst all of the ragged play, Giggs was able to put his foot on the ball and calm things down. It must be a tremendous boon to all of the young players to have him around; he is priceless when he is on song. Nonetheless, United lacked decisive creativity and Wayne Rooney's absence loomed large. The little solace United fans can take from that scenario is that it is being handled marginally better than Luis Suarez's at Liverpool.

United were a little scrappy but still with the old determination; Moyes has at least got the players motivated. In particular, Nemanja Vidic was energetic in debating certain points with the referee and Holt on more than one occasion.

The first half finished with Wigan growing in confidence and United unable to capitalise on their superior possession. With just one goal separating the sides, the contest started to open up and Wigan pinged in several crosses that United's defence dealt with untidily. Despite an excellent effort from Danny Welbeck, the team in red were grateful to hear the half-time whistle.

Wigan began the second half the much livelier of the sides and were immediately on the attack. At best, United looked sloppy; at the worst end of the scale, Cleverley was found. His performance was a ringing endorsement for the purchase of a new midfielder. Any midfielder. His skewed shot after some nice approach play by Welbeck did not test the keeper and was little less than an embarrassment.

The game was a mess of sterility and missed passes until the hour mark. At that point, United pushed forward in a confused manner and looked blocked off by Wigan's solid back line.

However, van Persie managed to wriggle into a little room and unleash a left-footed strike from the edge of the box. It deflected off James Perch's boot and nestled home to make it 2-0. It was hard to recall if van Persie had touched the ball much since his first goal, but with these results, it hardly matters. The man is a born match-winner.

Once United had that cushioned lead, their play started to take on a bit more fluency. Passes started meeting their targets more frequently and a semblance of calm could be seen. United were unlucky not to add to their tally when Evra was unable to fire in a cross following an excellent buildup through the midfield.

As Denis Law presented the trophy to Vidic after the match, Moyes looked as if he might be enjoying himself. Winning without hitting top gear is a good habit to develop. It is one his United have already started to acquire and fans will hope this trophy is merely the first of many. Business as usual for United.
Follow Mark Payne on Twitter @markjpayne