Manchester United shelling out little more than dignity
Schweinsteiger! If there were a name Manchester United fans would least want published in connection with their team, then this would be the one. Many of the club's supporters probably gnashed their teeth when The Mirror recently announced that, given the increasingly unlikely transfer of Cesc Fabregas from Barcelona, Manchester United might turn their attentions to Bayern Munich's Bastian Schweinsteiger.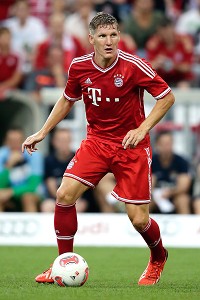 VI Images/Getty ImagesA player of Bastian Schweinsteiger's caliber needs to be approached at the beginning of the transfer market.
Let's discount for a moment the thought that the rumour mill is being malicious and consider something -- and this is important whether the Schweinsteiger signing, with the odds steeply against it, happens or not: This is not how you do things. If you are truly interested in a player of the German's quality and prestige, then you approach him first, not at the end of a desperate and all-too-visible series of failings in the summer transfer market.

Some might say that when you're pursuing a player, it doesn't matter what you do, so long as you finally get your man. Well, that's one view. Another is that regardless of what price you seek to pay for a player, you should never pay with your dignity. But that's precisely what Manchester United are currently doing. These conspicuous struggles to make a high-profile purchase -- at present the only arrival is Uruguay's U20 right back Guillermo Varela -- do not give the impression of a club in control of its own destiny.

Perception is vital. As the old saying goes, "The strong move quiet, and the weak start riots." Across Europe, Manchester United's rivals have been moving quietly, making a series of acquisitions and ensuring that their targets are happy with the approaches. And this latter point is much of the problem for Manchester United: None of the players who have so far been linked with the team -- not Thiago, not Fabregas, not Marouane Fellaini, not Leighton Baines -- have made any significant indication that they are willing to move to Old Trafford.

And all of this matters. It matters because, as a leading European club, Manchester United have an aura to maintain, and by this stage of the season, they should have secured at least one of the targets. This isn't just a question of ensuring that they are integrated as early as possible into the squad: It's actually more intangible, and far more crucial, than that.