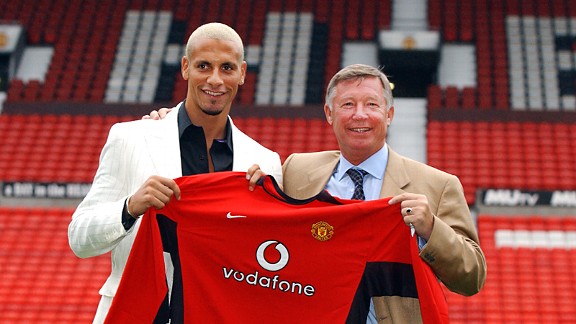 Matthew Peters/Manchester United/Getty ImagesManchester United's 2002 signing of Rio Ferdinand has proved to be one of the club's most successful moves ever.
Rio Ferdinand's Manchester United testimonial will be held at Old Trafford this Friday, and the showpiece match against Sevilla is a well-deserved tribute to the centre-half. During his tenure in Manchester, Ferdinand has overcome more than one setback and established himself as one of the finest defenders of his generation. A look back at the 11 years since he signed reveals Ferdinand to be one of United's most accomplished alumni.

Ferdinand arrived from Leeds United, having reached the semifinals of the Champions League with the Yorkshire club and captaining that side in his final season at just 23. His class was well-known long before then, and he had become the most-expensive defender in the world when moving north from West Ham for £18 million in 2000.

-Ferdinand eyes management role

With Leeds running into financial trouble shortly after their Champions League run, Sir Alex Ferguson knew he needed to act before one of his rivals captured the outstanding defender in the country. In July 2002, Ferdinand was unveiled as a Manchester United player for £30 million, again breaking the British transfer record and again becoming the most-expensive defender in the world. That is a title he still holds, and he also remains the most-expensive Englishman, outpricing teammate Wayne Rooney in the process.

If you want to become a Manchester United legend, then coming from Leeds makes your job difficult. There is one sure-fire way to rectify this; score a winner against Liverpool. This is a feat that Ferdinand has achieved on not one but two occasions. His last-minute clincher against the Merseysiders at Old Trafford in 2005 had Gary Neville grinding his hips at the away stand. It was so inspiring that Ferdinand obliged in repeating the trick the following season.

Considering Rio has scored only eight goals for the club, it can be said that 25 percent of his United strikes have come against Liverpool -- an interesting, yet obscure, statistic. However, it is defending for which he was hired, and it is in that department he has excelled.

Not only has Rio featured in the PFA Premier League Team of the season five times in the past decade, he was ever-present between 2006 and 2010. During that period, United won the title three times. It is fair to say that when Rio is on song, so are Manchester United.

Ferdinand is blessed with passing skills of players who operate much farther up the pitch. Indeed, during his academy days at West Ham, he was often played as an advanced midfielder, only to be dropped back when his skills as a centre-half were acknowledged.

This has given him a greater understanding of how the game reads from farther up the pitch, and it is no wonder that he is able to position himself in advance of many an opposition attack. In the classic spirit of great defending, much of Ferdinand's skill comes from anticipating the opponent's intent and snuffing out the danger before it is allowed to develop. Nobody does it better.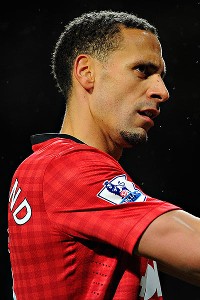 Michael Regan/Getty ImagesRio Ferdinand will be on the receiving end of United supporters' gratitude Friday in his Old Trafford testimonial.
But the real secret of Rio's success is he is a team player. In a cup tie against Portsmouth in 2008, he was forced to go in goal for United after an injury to Edwin van der Sar and the sending off of Tomasz Kuszczak. It is this kind of commitment that has made him popular with fans and teammates alike.

Earlier in his United career, things were more uncomfortable. Rio missed eight months in 2004 for missing a routine drug test and was subsequently banned by the FA. The ban was absurd, and Rio cannot be blamed for thinking that 81 caps would be enough for him nine years later and retiring from international duty.

United stood by Ferdinand staunchly during that period, and it was to the great consternation of the fans that he held out for a substantial pay increase during his next contract negotiations. After finally signing, Rio managed to win back the fans in exactly the right fashion -- by playing the best football of his career and almost reinventing the art of defending in the process. Rooney would do well to note how to respond to this kind of situation.

This period of excellence was crowned when Rio was given the honour of captaining the side during the Champions League final in 2008, the greatest night in the club's recent memory as United defeated Chelsea on penalty kicks. It capped an almost flawless season for Rio in which he featured in every single European game and all but one league match. United won both competitions.

Injuries seemed to be bringing his career to a creaky close in 2009-10 in what was his most difficult season. But Rio battled back again and in 2012-2013 was nearly back to his imperious best, with 28 league appearances and one goal. That strike was a special one, too. It was the final Old Trafford goal of Sir Alex Ferguson's reign.

The extension of Rio's contract was announced shortly after the hiring of David Moyes as Ferguson's replacement. In many ways, he can be seen as the first signing of the Moyes era. "We're confident. If we had to go into the new season with the players we've got now, I'd be more than confident of doing well and winning trophies," Ferdinand said this week.

There is the small matter of the testimonial to contend with first. With 430 Manchester United appearances, he is 19th in the club's overall list and just a few behind fellow great centre-half Gary Pallister. It is likely he will overtake Bryan Robson and Mark Hughes this season. That is truly some achievement. Perhaps he can now be forgiven for having played for Leeds.

Thank you, Rio. It has been a pleasure to have you around.


Follow Mark on Twitter @markjpayne