Small comfort for Rafael and Fabio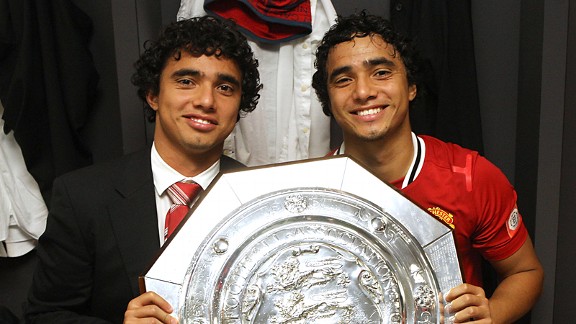 John Peters/Man Utd/Getty ImagesFabio and Rafael have enjoyed success in the Premier League, but playing time in the back for Brazil has proved much more difficult.
Tumbleweeds blow through Manchester United's transfer market. Meanwhile, young midfielders and forwards make a startling impression during the club's preseason tour, with Wilfried Zaha, Jesse Lingard and Adnan Januzaj making particularly strong claims for further first-team action come late August. Somewhere beyond this frustration and optimism, an unsurprising statement emerged almost unnoticed.

- Nani committed to Man United

Rafael da Silva, who was perhaps the Premier League's outstanding right back last season, was omitted from Brazil's squad to play Switzerland in their friendly on Aug. 14. His fate appears to have been sealed by his conspicuous role in Brazil's failure to win the Olympic gold medal. He was unusually indecisive in the final loss against Mexico and has been out of favour with the national side ever since.

There is no shame in Rafael's failure to make the selection. After all, being picked for Brazil as they approach the World Cup is probably the most competitive process in global football. Nevertheless, none of that will be of any great comfort to him. Most other countries -- notably Spain, who were routed by Brazil in the Confederations Cup final -- would be delighted with a player of his defensive tenacity and attacking flair at right back. This is Brazil, though, land of the flying fullbacks, where even legends such as the incumbent Dani Alves get a hard time of it. Alves recently commented, perhaps only half-joking, that he blamed predecessors Roberto Carlos and Cafu for setting such high standards at that position.

At least Rafael is not in such a forbidding era as Giovane Elber or Mario Jardel. Elber, the Bayern Munich striker, played only 15 times for Brazil, scoring a creditable seven goals. He had the misfortune to be playing at a time when Brazil had probably as much attacking talent as it had seen since the great side of 1982, with Ronaldinho, Rivaldo and Ronaldo all automatic choices. Jardel, Elber's contemporary, played most of his career for Porto, then moving to Galatasaray and elsewhere for increasingly diminishing returns. He was something of a Miroslav Klose figure, a prodigious goal scorer who would have made the grade for most other national sides. As it was, he netted only once in 10 fixtures for the national team, and that was that.

At present, it seems that Rafael -- notwithstanding a dramatic change of heart from Luis Felipe Scolari -- may be set to kick up his heels next summer and somewhat agonisingly watch his country compete for the World Cup on home soil. He has every motivation to produce another fantastic season, especially now that his twin brother Fabio has returned to Old Trafford and may be handed a share of his defensive duties. The dream scenario, from a romantic point of view, would be to have the two of them as Brazil's fullbacks for the next few years to come, a situation that would require a significant hike in form from both. The irony is that the first realistic moment for redemption with the national team may be another Olympic tournament -- in Rio, in 2016, by which time Scolari may well have left the job.

Rafael and Fabio are still only 23, so their consolation is that they have many more years in which they can become regulars for Brazil. In the meantime, though, they can both reflect on the careers of Elber and Jardel and thank the Lord that they were not born strikers.