F & F boys? Fabregas-Fellaini capture could be fruitful
With three weeks to go until the start of the Premier League season, it might be said that the summer transfer market is entering Fergie Time. David Moyes said Sunday he is unsure whether Manchester United will submit a third bid for Barcelona's Cesc Fabregas.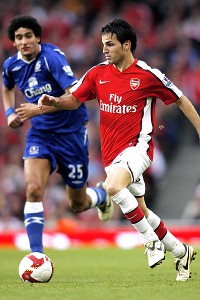 Glyn Kirk/AFP/Getty ImagesFive years ago, Maroune Fellaini and Cesc Fabregas were Premier League opponents. Will Manchester United make them teammates?
At the same time, the club seems to be after Everton's Marouane Fellaini. The apparently parallel pursuit of these players has led some supporters to believe that Fellaini would merely be a poor man's alternative to the Spain midfielder. Conversely, there is a strong argument that Manchester United need them both.

There is a range of relevant facts to consider, and the most pertinent is that Michael Carrick has just turned 32. Carrick, having been long maligned for his perceived passivity and lack of tangible contribution to his team's cause, has finally been given due credit for his role in Manchester United's capture of five Premier League titles, one League Cup and one Champions League since his arrival. In the process, he has perhaps become his team's hardest player to replace.

-Moyes plays down 'feud' with Mourinho

While Manchester United have no shortage of goal-scoring options should Robin van Persie succumb to injury, one to Carrick would deprive them of someone who can both screen the back four and play the ball out perceptively from deep. Looking at Carrick's age, Moyes will not want to fall into the "Xavi trap" currently experienced at Barcelona, where an aging playmaker with notably declining form is in urgent need of a deputy.

Xavi, who has been outstanding in every season since 2008 save the last, is now 33 and his successor has not yet been appointed (indeed, Thiago Alcantara was just sold to Bayern Munich). Moyes' move to sign Fellaini, who is still only 25, can be viewed as a desire to avoid the same mistake.

It's some time ago now, but Fellaini was signed after a superb pair of performances for Standard Liege that denied Everton a place in the group stages of the Champions League. In those games, he was deployed as a defensive midfielder, though his footballing intelligence has seen him successfully used farther forward in midfield and as a second striker. He could therefore form part of a two-man axis with Carrick or act as his understudy.

Moreover, he would provide additional aerial strength, and the type of power that Manchester United have not seen in the middle of the park for several years. Watching a bulked-up Bayern Munich bully their way past Barcelona in the first leg of last season's Champions League semifinal, the acquisition of Fellaini would be a welcome response to the Germans' swagger.

The benefits of signing Fabregas are obvious, which is why his transfer is proving far more protracted. He is not a straight replacement for Xavi, but his departure would still leave the Catalans' squad curiously thin. Were United to sign him, he would doubtless be an automatic first choice alongside Carrick or Fellaini, and his creativity would in one stroke make the club a dangerous proposition in both the Premier League and Europe. With all that he has achieved -- including a pivotal role in his country's triumphs in Euro 2008 and 2012 and World Cup 2010 -- it is easy to forget that he has only just turned 26, and has thus arguably not even reached his peak.

To sign both players would give Manchester United a formidable midfield pairing for the next five years. While this thinking is viewed by some as wishful, the prospect of acquiring both is worth the very public risk of failure. It is a gutsy dual move; with which, like his predecessor, Moyes is showing his appetite for a game-changing gamble.