Cabaye would bring stability, not glamour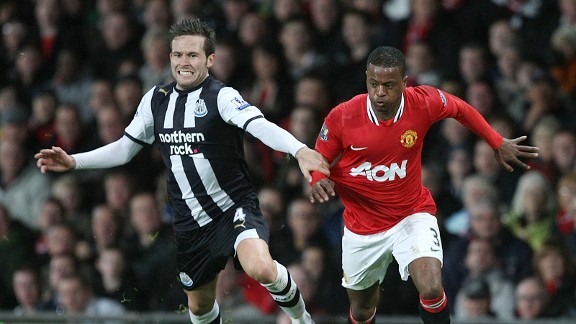 John Peters/Getty ImagesYohan Cabaye, left, could help Patrice Evra and Manchester United defend their Premier League title.
To buy or not to buy Yohan Cabaye -- that is the question. From one perspective, it shouldn't even be a question. Manchester United need to buy at least one defensive midfielder, possibly two. Cabaye is a France international with two years of Premier League experience at Newcastle United. What's not to like?

Quite a lot, judging by the indifferent reaction of many Manchester United fans to the prospect of his arrival. In truth, Cabaye comes off badly in comparison with some players the club has pursued this summer; you wouldn't see him mentioned in the same class as Thiago Alcantara or Cesc Fabregas.

But maybe it's better to see him not as a poor-man's alternative to either of those players, but as the club's recognition that the first-team squad is far thinner than feared in this crucial area.

-Newcastle's Pardew not worried about losing Cabaye
-Thiago's dad: Son was 'close' to coming to Old Trafford

For the right price -- certainly not for 15 million or 20 million pounds, as has been rumoured -- Cabaye would be a smart purchase. He would be able to play alongside Michael Carrick and surge forward from midfield, or, in Carrick's absence, could distribute the ball competently from a position in front of the back four. His consistency, defensive capabilities and experience make him a better option in this role than, say, Tom Cleverley, Adnan Januzaj, Anderson or Nick Powell.

Moreover, if Manchester United also buy an automatic first choice in midfield -- which they should -- then Cabaye would be a very good deputy for him.

This doesn't sound particularly glamorous. To some, it's like having to catch a minicab when you'd been dreaming of a horse and carriage. Yet there are significant benefits for both club and player. Manchester United would get a player who can act as understudy in two positions, and challenge Cleverley into producing the season of his life -- something the England midfielder and his team both sorely need.

Cabaye, meanwhile, joins a prestigious club whose schedule means he will play a high number of games, if not perhaps as regularly as he would like.

Gary Neville had plenty to say on Twitter on Tuesday about Manchester United's activity, or lack of it, in the transfer market. There were three tweets of particular interest. They are as follows, with my comments below:


What United ( SAF) has always been good at is trusting the players they have! Signing players can be a risk to spirit as well as a positive!

— G.Neville (@GNev2) July 23, 2013


My problem with this analysis is that David Moyes is not Sir Alex Ferguson, who had an unparalleled ability to extract extraordinary extra levels of effort from his players. Neville is effectively arguing Moyes will be able to motivate his players just as well as Ferguson did, which is a huge and risky assumption.


Powell and Januzaj on top of that list! Remember only 2 max 3 can play in CM !!! These kids are good!!

— G.Neville (@GNev2) July 23, 2013


Undoubtedly they are good. In fact, they are brilliant. But they are, respectively, 18 and 19. A Carrick injury would leave them without a senior player alongside whom they could learn their trade in midfield. This is a season when they should be eased into the first team, not pitched in from the very start.


For united fans I do think a top CM would be a good addition however if the right one can't be bought,stick with what's in the current squad

— G.Neville (@GNev2) July 23, 2013


A sound enough argument if the current squad is good enough in this area -- but, with the return of Darren Fletcher still uncertain, that's questionable.

Given Neville's almost unmatched pedigree in the game as both a player and a pundit, it would be tempting to defer to his judgment. But this seems like a moment for respectful disagreement. At present, the greatest risk to Manchester United is to do nothing in the transfer market, since their closest competitors for the Premier League -- Chelsea, Manchester City -- both have robust, technically gifted midfields to which they have made impressive additions.

Whether the club like it or not, the warning signs are there. Cabaye, though he may not be the sexiest of signings, may just be one of the most sensible.