Moyes ice-cool in the face of pressure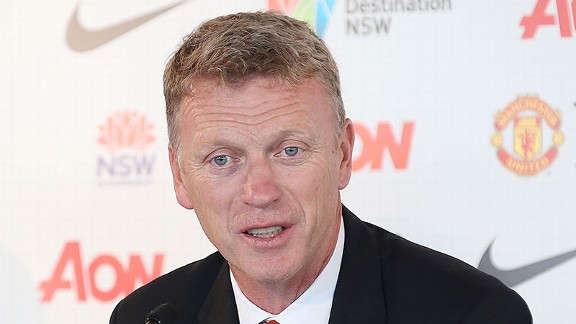 GettyImages / Mark Metcalfe David Moyes has had to deal with a number of Rooney-related questions.
The timing of Wayne Rooney's transfer soap opera could not be worse for United boss David Moyes. He is on precisely the opposite side of the planet and taking charge of a new group of players for their first set of games together. Yet when facing the press in Sydney, Moyes exuded professional focus. He is already acting like a man who expects tougher challenges than this to arrive.

An interesting point to note is the linguistic choices Moyes makes when he speaks. Every sentence begins with the words "The club ...," "Manchester United ..." or "We ...". There is none of the self-interested grandstanding that most managers prefer.

If you compare this with the rhetoric of other new incumbents, the difference is even starker. "There aren't many [managers] with as much experience as me," said Mark Hughes when he arrived at Stoke City at the end of May. Hughes is a very decent manager, who was unfortunate at QPR, but his self-justification is indicative of how ego-driven managers can be.


Jose Mourinho famously arrived at Chelsea first time out and declared himself a "special one." This time around, he has been a more subdued "happy one." But most of the sentences he utters in press conferences begin with the word "I." When talking about the Champions League title last week, he said: "Chelsea want the second one, I want a third." It is revealing.

This tells us that Moyes is motivated by the continued success of the club. It shows he appreciates that goals will be reached by group effort, rather than personal ambition. If the collective succeeds, then the individuals will do so too. It is the Manchester United way.

So when he faced prolonged questioning about Rooney in Sydney this week, it is no surprise that he seemed unflustered. He doesn't interpret this as a challenge to his authority. "The position of the club hasn't changed" he said matter-of-factly. If anything, Rooney's transfer/contract saga is more of a test for new chief executive Edward Woodward. Moyes wants to concentrate on the football, and so he should.

This is no doubt helped by the fact he is staunchly supported by people who have been around the club for a long time. Seasoned United watchers will have noted how much more prominent Ryan Giggs has become since he was promoted to player-coach. Giggs is frequently facing the media on the current tour and his voice too is now interpreted as that of the club.

Giggs' promotion by Moyes was an utter masterstroke; it is already paying massive dividends. As soon as Giggs comes out and says losing to the Thai All-Stars is no big deal, then it's no big deal. What Giggsy says goes.

It seems likely that Moyes is so cool about the Rooney situation because he knows the real challenges are yet to come. Michael Carrick said at the same press conference that to challenge for the title "we'll have to be as good, if not better than ever" to succeed. No doubt his manager feels exactly the same way.

Follow Mark on www.twitter.com/markjpayne