Anxious win for United at CFR Cluj
For Manchester United, this journey to Romania was as joyful an experience as a checkup at the dentist, and they return with a satisfactory 2-1 win over CFR Club. Perhaps the key concern when this match began was the control of possession in midfield: a battle that, after 33 minutes, they were comfortably winning by 70% to 30%. The only problem was that, by that time, Manchester United were already a goal behind.

The team's defence has been a problem this season, with the away side having fallen behind in five of their six Premier League games so far this year. The same issues emerged again, the first goal coming after an incisive crossfield pass had caught Evra too high up the pitch against Modou Sougou. The Senegal striker duly surged in behind him and cut the ball across to Pantelis Kapetanos, who seemed to have evaded Jonny Evans simply by remaining where he was standing, and the Greece international sidefooted the ball across David De Gea into the far corner.

This should have come as no surprise -- CFR Cluj were known for their abilities on the break -- and Sir Alex Ferguson's tactical formation, a 4-3-1-2 with Wayne Rooney just behind Javier Hernandez and Robin van Persie, showed a desire to keep the midfield congested. Of course, it was a gamble that Ferguson won, but not without some moments of anxiety. He might have been almost as relieved as Patrice Evra when Soudou succumbed to injury and was substituted after 24 minutes: with him on the field for the whole game, Cluj would have been a much more dangerous proposition. As it was, their main attacking force was Mario Camora wide on the left, who marginally trumped Rafael Bastos in his command and intelligent use of the ball.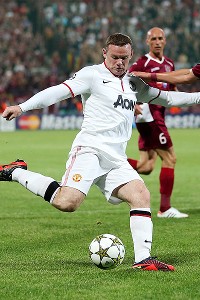 GettyImages / Julian Finney/Getty ImagesWayne Rooney's link play with Robin van Persie was the key to United's attack against Cluj.
Van Persie ensured that Ferguson did not have too long to worry, equalising shortly after Cluj's opener with a looping header (or, more accurately, shoulder) from a Rooney free kick wide on the left, and in the process confirming his emergence as Manchester United's redeemer in close matches. It is just as well that the Dutchman is in excellent form; his strike partner Hernandez looked out of sorts for most of the 83 minutes that he spent on the pitch, at one point standing almost two metres ahead of the play before being called for the inevitable offside. Worryingly, like Michael Owen before him, Hernandez enjoys getting in behind defenders much more than he enjoys patient playmaking from deep, and there is a very real threat that Ferguson's preferred configurations of fast-passing attackers will increasingly see him frozen out.

Having crucially reached half-time on level terms, Manchester United could negotiate the second half in patient fashion. Ferguson referred to the concession of the goal as "shocking," and if that was what he said to the cameras one can only imagine the virulence of the glare he directed towards his back four in private. He had cause, though, to be cheered by the quiet and effective diligence of Darren Fletcher and Anderson, the latter of whom also showed an encouraging weight and promptness of passing into the final third, if not the same sure shooting touch we saw from him in the Capital One Cup against Newcastle. Ahead of them, Tom Cleverley drove forwards so Rooney could drop deep and measure his through-balls, and it was from this position that the decisive goal came. Forty yards out on the right flank, Rooney saw van Persie cutting behind his marker into the area and lofted in a swirling pass of which Andrea Pirlo would have been proud. Van Persie, his touch soft as cotton wool, volleyed the ball with the outside of his left foot past Mario Felgueiras into the far corner.

Thereafter, Manchester United kept possession with relatively little trouble for the rest of the game, although De Gea was called to make two very sharp saves in the closing minutes as Cluj pressed forward onto the slightly complacent away side. It was a welcome result, but not without its question marks: Evra was again exposed by a fairly simple formula, while Hernandez looked uncomfortable in the attacking triangle.

Yet Ferguson will have taken heart from the three points, which, with Galatasaray's 2-0 defeat to Braga, sees his team alone at the top of the group. Onward, now, to face Newcastle in the Premier League at the weekend.

Game notes:
CFR Cluj (4-4-1-1)
Felgueiras; Sepsi, Cadu, Rada, Pinto; Sougou (Luis Alberto 24), Aguirregaray (Nicoara 81), Muresan, Camora; Bastos; Kapetanos (Bjelanovic 61)

Manchester United (4-3-1-2)
De Gea; Rafael, Ferdinand, Evans (Wootton 79), Evra; Anderson, Fletcher, Cleverley, Rooney; Hernandez (Welbeck 83), Van Persie

Goals: Kapetanos (14); van Persie (29, 49).