Old Trafford the perfect place for Fabregas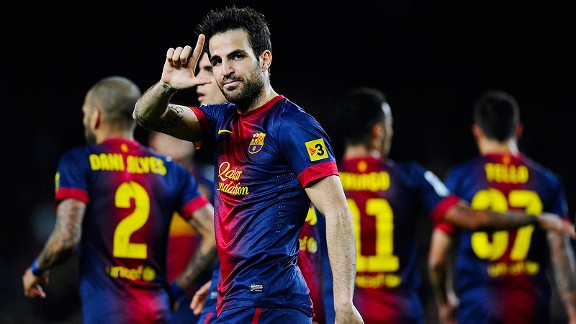 David Ramos/Getty ImagesCesc Fabregas: Would be reunited with Robin Van Persie at Man Utd.
Manchester United boss David Moyes certainly hasn't wasted any time. Less than 24 hours after Bayern Munich pipped the Red Devils to Thiago's signature, United have returned to Barcelona in an attempt to plunder their midfield for another player, Cesc Fabregas.

Fabregas moved to Barca from Arsenal at a cost of €29 million just two years ago. United have put an offer of €30 million on the table to bring him back to the Premier League. After two years playing out of position as a forward to accommodate two of the best midfielders of all time, Xavi Hernandez and Andres Iniesta, Fabregas was hoping for more of a chance at the Nou Camp this year. Then Barcelona spent €50 million on Neymar.

Since the World Cup follows immediately afterwards, this season is particularly significant for 26-year-old Fabregas. Competition for places in the Spain squad is intense, and the Catalan wants to go to Brazil. He is unlikely to get there watching Neymar play in his place.


It will not escape the notice of fans that Fabregas enjoyed a profitable relationship with Manchester United striker Robin van Persie whilst at Arsenal. Reuniting that duo could be the perfect way to ignite the Reds' campaign as they face a tricky opening period.

"We can't afford a slow start this year" said midfielder Michael Carrick during United's preseason tour in Sydney. He, more than most, will be keen to see which midfielder United bring in. Indeed, David Moyes is said have made strengthening the center of the pitch a priority.

Fabregas is compact player with excellent vision and the muscle to power forward when attack beckons. In a potential United midfield alongside Carrick, it is easy to see how he could link play with a scheming Van Persie higher up the pitch and unsettle opposing defenses. Arsenal's last serious challenge on the title featured this duo. The potential this move could unlock at Old Trafford really whets the appetite.

Arsenal are reported to have first refusal on any Fabregas return to England, but at this stage, only United have shown an interest. "I really want to triumph at Barca," said Fabregas last month. However, he added: "If they [Barcelona] said that they didn't want me, that would be another thing". With the purchase of Neymar, Cesc may now feel that Barca have implicitly said that he is surplus to requirements.

United, on the other hand, are offering him the chance of first-team football in his preferred position alongside an old buddy. It could be a hard offer for him to refuse.

From a United perspective, this represents a better deal than the Thiago one was. Fabregas is a proven quantity at the Champions League level and a World Cup winner, too. At 26, he is entering the peak years of his career, unlike Thiago who still has much to prove.

Old Trafford is the perfect stage for Fabregas's talents, and it is an arena that would appreciate his attacking verve and defiant resolve for victory. United has lacked a real attacking midfield force for a few years now, and Fabregas has the right attributes to fit the bill. If he were to move to Manchester, he would certainly not regret it. He might even steal the show.

Follow Mark on www.twitter.com/markjpayne