Unhappy days as Thiago rides off with 'The Fonz'
It has finally happened. Barcelona, the Primera Liga champions, have announced that "FC Barcelona and FC Bayern Munich have reached an agreement over the transfer of Thiago Alcantara to the German club for a total of 25 million Euros."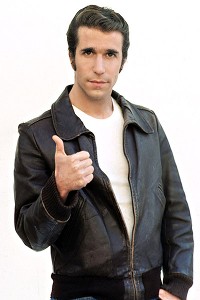 Getty ImagesTaking the form of "The Fonz," a cool Pep Guardiola snapped his fingers and turned Thiago Alcantara's attention away from a flirtatious United.
It has happened, just as Manchester United supporters had feared that it would. Their courtship of Thiago this summer has been similar to a preppy young man in "Happy Days" approaching the most attractive woman at the bar: ostensibly confident, but quietly nervous in case The Fonz walks in and sweeps her off her feet.

And of course, that's just what Pep Guardiola did. Guardiola, who is The Fonz of world football, wandered into the summer transfer saloon a few days ago, and all he had to do was pop the collar of his leather jacket at Thiago -- and that was that. From the moment he told his Bayern paymasters that "Thiago is the only one that I want, that's what I told them," the game was up. And so one of the greatest midfield talents of his generation will continue his development under the tutelage of the effortlessly elegant Spaniard, and not under David Moyes.

Meanwhile, Manchester United must pause for thought. On one hand, they can argue that Guardiola has unparalleled pulling power, that he was the only person who could have turned Thiago's head. On the other, they may well rue the fact that they are well into the preseason tour without either of the two central midfield signings that they realistically need to keep pace with Chelsea and Manchester City. Thiago -- not that it's worth weeping about now, tempting though it may be for some to reach for the hankies -- would have revolutionised the team's midfield. He would have provided drive, guile and vision.

But no matter. That is immaterial now. Thiago is off to Bavaria in a Cadillac with The Fonz.

Once again, Manchester United limp back to the drawing board, and can console themselves with the fact that a player whose heart was not set on playing for the club would never truly be at his best there. Witness how quickly Thiago responded to Guardiola's overtures, and how quickly Asier Illarramendi jumped into the arms of Real Madrid: These are the destinations that these outstanding midfielders truly desired.

At least, that's the conclusion one can reach after an extended attempt at straw-clutching. For all those supporters dreaming of a world-class addition to the squad, this will hurt, and this will hurt bad. Instead, they must retain faith in Moyes, whilst gazing forlornly at the gap on that pitch where Thiago would have been; and perhaps, in a moment of self-pitying irony, they will quietly sing the words "Sunday, Monday, Happy Days; Tuesday, Wednesday, Happy Days."