Cluj may leave United with slimmest of margins for error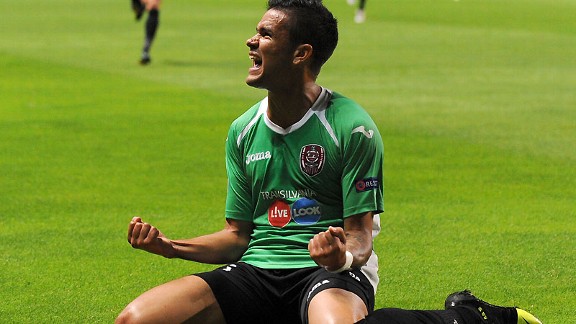 APRafael Bastos is a danger to United's creaking defence
Given the wholly unpredictable nature of Saturday's Premier League defeat to Spurs at Old Trafford, it is perhaps fitting that Manchester United's next European game is an uncertain venture. The one comfort of facing a traditional giant in the UEFA Champions League is that you have every idea what to expect. CFR Cluj, on the other hand, are a relative unknown, but what is known of them marks them out as a genuine threat.

Though relatively new to the tournament - they made their debut as recently as the 2008-2009 season - Cluj are no fools. In their first game they defeated AS Roma 2-1 at home, and to dismiss that outcome as beginner's luck would be to ignore their subsequent and very solid record. In 17 UEFA Champions League games, they have won 7, drawn 2 and lost 8, with a negative goal difference of only 4. This suggests that they will offer the most stubborn of resistance.

Such a profile should be of a mild concern to Manchester United, who are leaving both of their most patient passers (Paul Scholes and Michael Carrick) and their most attritional winger (Antonio Valencia) at home. The omission of Carrick and Scholes is, at best, a great shame, given the perceptiveness of their passing against Spurs on Saturday: between them they completed 228 passes, more than the entire Spurs team (188), with an accuracy of 89%.

Valencia, unfortunately, has an ankle injury; a sad setback given the very good form that he has shown in recent matches. Ryan Giggs was far from his best at Old Trafford against the Londoners, and so it is not a great surprise that he has stayed at home.

CFR Cluj will not be excited by the prospect of facing an attacking triangle of van Persie, Kagawa and a resurgent Rooney, but they will be intrigued by United's somewhat weak defensive line. With Nemanja Vidic injured for several months and Rio Ferdinand susceptible to explosive pace on the turn, their Brazilian forward Rafael Bastos offers particular danger. He will most likely play in support of Modou Sougou, the Senegal striker pursued this summer by a clutch of smaller Premier League clubs, on the right of a midfield five.

The question, as ever, will be whether United can control the tempo, and this puts a great deal of responsibility at the feet of Tom Cleverley, Darren Fletcher and Anderson - the latter two of whom, though in fine form, are not yet fully fit.

Cluj will be confident after their 2-0 defeat of Braga on the opening matchday, whilst United will be stung and somewhat watchful after their difficult home win over Galatasaray. It is hard to see this game being decided by anything other than the slimmest of margins: but, in the current climate, the side from Manchester would probably take that gladly.