Welbeck waiting in the wings for Rooney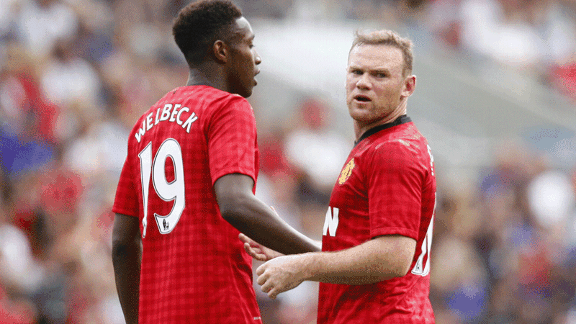 GettyImagesDanny Welbeck's versatility means his scoring record falls some way short of the scoring standards set by Wayne Rooney and Robin van Persie.
Rio Ferdinand has openly stated his view that Wayne Rooney would be making a great mistake in leaving Manchester United. Since this is a conversation that they could have had -- and presumably are still having -- in private, Ferdinand seems to be playing the game of public opinion, hoping to tip Rooney's apparently unsettled thoughts in favour of staying. Of course, there are risks for both parties if Rooney leaves.

For all the forward's vacillations over a move these past few years, he remains one of the world's most gifted attackers. If Rooney leaves now, too, it will take him some time to play himself into form at his new club, and with a lack of offers -- so far -- from English teams, he may even have to relocate abroad, which is not particularly ideal in a World Cup year. In the midst of all this confusion, though, it is probably time to spare a thought for the greatest loser in all this chaos; and that is Danny Welbeck.

- Rio: Rooney, learn from Ronaldo exit

Javier Hernandez scores more goals than Welbeck, his prolific form continuing this summer for Mexico, but the Manchester-born forward boasts a skill set that can bring all of his fellow attackers into the game. Though Hernandez's approach play has improved considerably, Welbeck links up and leads the line like few others can: to wit, his performance in the 4-2 Premier League victory over Stoke at Old Trafford last season, when he, Rooney and Robin van Persie rotated through the central position with ease. In that match, he and his colleagues proved thoroughly unmarkable, reducing one of Europe's best defensive units to almost a figure of fun.

Van Persie managed to avoid injury last year, but should he succumb to either that or fatigue this year then Rooney, should he remain at Old Trafford, would be expected to take his place at the head of the attack. Though Welbeck has so far been selfless and patient in playing on the wing, there will be a time when he will want to have his chance playing through the middle. After all, he will turn 23 years old this winter, and is thus no longer a callow youngster.

Welbeck scored only twice last year, and the matches in which he scored were instructive: one of them was that aforementioned game against Stoke, who hardly have the most philanthropic of defences, and the other was away against Real Madrid in the UEFA Champions League. In theory, if a player can produce in games like that, then there is no reason he cannot do so in any other.

However, Welbeck is perhaps a victim of his versatility, in that he is often deployed in several roles, which seems to have taken away his scoring touch; which, to date, has not been the surest part of his game. Sir Alex Ferguson, remarking on this lack of goals last season, hinted at Welbeck's frustration at this state of affairs.

"Maybe he doesn't appreciate us moving him around in various positions and we've maybe overused that because he is young," said Ferguson, in an interview with Inside United. "But his value to the club is there because I know he can do a job for me in any of those positions... I think he will find his role through the middle once he gets that maturity and gets into a more consistent way of scoring."

This is something of a Catch-22 -- it will be hard for Welbeck to grow into a central role if he is not being given one. It is unlikely that, in the absence of Van Persie and with Rooney available, David Moyes will regularly play Welbeck through the middle, but it could be just this kind of experiment that would provide handsome returns for both club and player.

This is to say nothing of the fact Welbeck may also be eyeing the World Cup with no small expectation, and will want to state his claim to a starting spot alongside Rooney. "With that kind of courage," said Ferguson of Welbeck, "he will eventually become a regular goal scorer."

For this to happen, though, it will take courage from Moyes to give him center stage.