Manchester United need to bulk up in the middle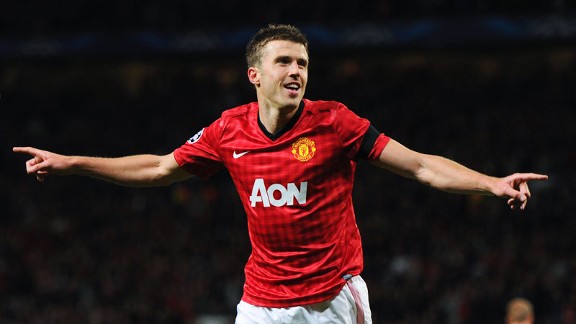 Michael Regan/Getty ImagesAfter Michael Carrick, there is a big drop-off in talent and muscle in the United midfield.
We need to talk about Carrick. During Manchester United's pursuit of Thiago Alcantara, it seems to have been mostly overlooked that the current players' player of the year has no identifiable understudy in the squad. If Michael Carrick is injured at any point this season for a substantial period of time, then there is no one who can intercept and play the ball forward from deep nearly as effectively as he can. But this article isn't entirely about him. It's about power.

If we look around the Premier League, and around Europe, several of Manchester United's rivals are bulking up in midfield, if they haven't already. Tottenham Hotspur have just added Paulinho to their ranks, who will join Sandro, Moussa Dembele and Scott Parker in their squad. Arsenal are being linked with Luis Gustavo. Manchester City have recruited Fernandinho. And then, of course, there's Bayern Munich: and, to paraphrase Kanye West, "no one team should have all that power." Bayern, on their way to victory in the UEFA Champions League last season, overwhelmed Barcelona with a compelling blend of physicality and technique.

The lesson was clear: If you can't move the ball as fast as Barcelona at their peak -- and Barcelona, who lost that tie 7-0 on aggregate, were far below such extraordinary standards -- then you must be prepared for a battle of attrition in central midfield. Manchester United do have two powerful players in the middle of the field -- but one of them, Anderson, is rarely fully fit or in the best of form, and the other, Phil Jones, is not a ballplayer of the quality of, say, Sami Khedira, Bastian Schweinsteiger or Javi Martinez.

Manchester United might point to their trophy cabinet in recent years, and argue that they are doing just fine without brute force in the middle of the park; that swift counterattack, such as that seen against Manchester City away from home last year, is the platform on which they will continue to build their success. Their links with Thiago suggest they will seek to negotiate central midfield with a flurry of passing rather than with shin-clattering aggression.

The problem is that this may not nearly be enough. Manchester United have, of course, been outmuscled by their closest rivals in recent years -- most notably when Yaya Toure and James Milner have been at their most assertive. There are three possible reasons they have not addressed this shortfall in strength. The first, which is almost implausible, is that they haven't noticed it. The second is that they have noticed it, but that they are stubborn. The third -- and, hopefully, the correct one -- is that they have simply been unfortunate in their pursuit of their preferred targets, and are losing out time and again to those who are offering more money or playing time. Regardless of the rationales, though, Manchester United need to bulk up in the middle, and they need to do it soon. It would be a shame, in what could be one of the most keenly contested titles for years, if they were to concede such obvious ground to their competitors.