Moyes cites icons but Rooney falls short
Everybody knew it was coming. There were a couple of gentler warm-up questions, but the name Wayne Rooney was at the top of everybody's agenda. New Manchester United manager David Moyes was ice-cool in the face of questioning, but he couldn't put out the firestorm that surrounds the future of the England striker.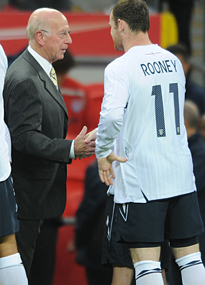 PA PhotosWayne Rooney needs another 52 goals to match Bobby Charlton's Manchester United record.
"Wayne Rooney is not for sale," said Moyes. He was unflustered, and his conviction was such that those in attendance are likely to believe him. Rooney is going nowhere, but there is a strong suspicion that he would like to.

Even the most generous of commentators would have to acknowledge that the key question was dodged. "Does Wayne Rooney want a transfer away from United?" The answer, again, was that he was not for sale.

With Moyes' unveiling as the new manager (the first event of its kind at Old Trafford for 26 years), there was much talk of icons from the club's past. Moyes cited Bobby Charlton and Denis Law and talked about the club trying to win every trophy. He described 39-year-old Ryan Giggs as "an incredible footballer" after working with him for two days.

- Moyes: 'Rooney not for sale'
- Moyes hints at second Baines bid

When asked about Rooney, Moyes chose to highlight the fact that the striker is not far from matching the goal-scoring feats of Law (237) and Charlton (249) at the grand old club and being classed as their peer. As a player, Rooney has already collected more silverware than Charlton and George Best did at club level. But it seems unlikely that he can ever reach their levels of adulation from his current position.

He has reportedly asked to leave the club twice, most recently before the end of last season, and that does not sit well with those who exalt United greats. Football is a game that can change things, though. Rooney's stock has fallen considerably over the summer, and in that time he hasn't been seen playing football. Once back on the pitch and plundering goals, his popularity is likely to grow again.

There has also been much talk around Old Trafford this summer about a bid to bring back Cristiano Ronaldo. In 2009, fans had reached the end of their tether with the Portuguese maestro after his repeated attempts to agitate for a move to Spain. Footballing excellence can heal the deepest wounds, it seems.

Rooney has no choice but to do his talking on the pitch now. He has been ominously silent on Twitter about the subject of transfers, and his new lord and master has made it pretty clear that he won't be going anywhere this summer.

"I can tell you that he is in great shape and has trained brilliantly this past two days," said Moyes. This alone should be taken as good news. Rooney returned last summer overweight and out of shape, much to the consternation of all concerned.

"Wayne is in his best shape for five years," said captain Nemanja Vidic. This can only be good news for Manchester United. To win the league you need your best players in good form, and if United start the season with Rooney firing, they will greatly improve their chances.

"There is a glint in Wayne's eye," said Moyes. "He wants to work hard and play football. We are working to get him to the level where he is scoring goals. Wayne is not far away from being a club legend." In terms of goal scoring, he isn't, but in other areas he falls short.

While the numbers might bear scrutiny, this club has always been about more than statistics. In terms of reaching the level of icons such as Law and Charlton, Rooney has an extremely long way to go. And it is going to take at lot more than 40 goals for him to get there.

Follow Mark on www.twitter.com/markjpayne