Neville and Giggs give Moyes a United front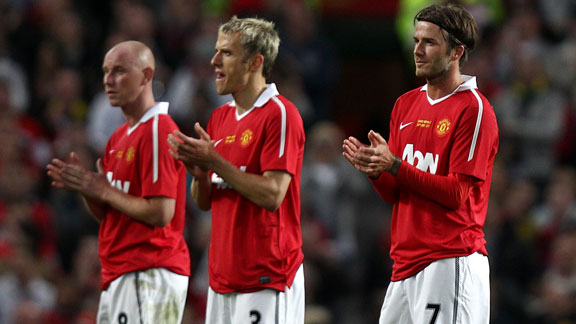 PA PhotosPhil Neville (center): Part of "Fergie's fledglings" that won treble in 1999.
Former Manchester United utility man Phil Neville returns to the club in a coaching role with the first team at Old Trafford -- a move that several supporters might meet with a quiet and sharp intake of breath.

Sir Alex Ferguson's departure was greeted with grief and gratitude, but the departure of Rene Meulensteen, the team's highly successful first-team coach, was a matter for genuine consternation.

- Payne: Utd moving towards Bayern template
- Giggs, Neville to join Moyes' staff

Now that Meulensteen has gone -- along with goalkeeping coach Eric Steele, instrumental in the development of David de Gea -- the style of coaching at Manchester United looks to be fundamentally different. Whether it will produce a victorious UEFA Champions League campaign, as Meulensteen enjoyed in 2008, remains to be seen.

Yet this appointment can, and probably should, be viewed in another light. Neville's return to the club, along with Ryan Giggs' naming as a player coach, shows that David Moyes is keen to exploit the knowledge and experience of two of the club's most decorated players -- in short, to retain as much of Ferguson's culture of winning as possible.

That culture was also built on loyalty -- Ferguson's watchword throughout his reign -- as a result of which it was rare to hear Manchester United players openly criticise the club during or following their careers. Many fans will be encouraged to see Moyes building a united front so early after his arrival.

For Neville, who appeared almost 400 times for Manchester United, the challenge will be somewhat greater than that facing Giggs. In his playing career, though technically limited compared to some of his peers, Neville was one of the most astute footballers on the staff. His superb positional sense, for example, was responsible for the best form that Juan Sebastian Veron produced in his short time at the club. His versatility, having played as both a defender and midfielder, will also give him a keen empathy for the issues that players will face in various match situations.

The 36-year-old, who holds the UEFA B Licence and has been doing his coaching badges for a while, gained experience as part of the England Under-21 team's coaching staff at the European Championships in Israel this summer and is looking forward to getting stuck in at United.

"When I retired from football, I knew that I wanted to continue in the game. It's something that I have been preparing for over the last few years," Neville told manutd.com. "So when David called to give me this opportunity, I couldn't resist.

"I gave my all when I played for Everton, but it is no secret that this club is in my heart. I've really enjoyed working with David and his staff as a player, and I think that, together with Ryan, we can make a real contribution to Manchester United."

Alongside Moyes, however, Neville would be going up against the tactical nous of Manuel Pellegrini and Jose Mourinho, both of whose teams have made significant reinforcements this summer. To that extent, handing him a key role would represent a gamble.

Again, though, we must look to the counterargument. Manchester United, more than many other clubs, is one where the collective ethos is more valued than any one individual outlook, where they have been eager, particularly under Ferguson, to find room for the old guard. (Witness, for example, Ole Gunnar Solskjaer's tenure as reserve-team manager or Sir Bobby Charlton's seat on the board of directors.) In this vein, Neville -- though he has the toughest of assignments -- will not have to face it alone and can draw both informally and professionally upon the thoughts of Giggs and his other former colleagues, perhaps even including Paul Scholes, for whom a coaching position may well lie ahead in the not-too-distant future.

Thursday's news therefore serves as reassuring notice that Manchester United are reinforcing the infrastructure that gave them unparalleled success throughout the past two decades. For that, Moyes, who also brings assistant manager Steve Round and coach Jimmy Lumsden with him from Everton, and the club are to be applauded.

* Updated with confirmation on Neville's appointment as a coach.