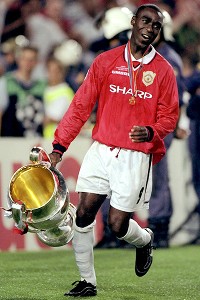 Phil Cole/Getty ImagesAndrew Cole left Old Trafford with a number of trophies but without the appreciation he deserves.
It might seem strange to say it, but it feels as if Andrew Cole -- despite winning five Premier League titles, two FA Cups, a Champions League title and scoring 187 Premier League goals -- doesn't quite get enough praise.

Perhaps this is due to Glenn Hoddle's infamous comment that he needed six or seven chances to score, combined with his record of only one goal in 15 appearances for his country (against Albania). Perhaps it is also due to the fact, rather like Michael Carrick, that his poor performances seem to loom disproportionately large in the memory; or maybe it is because of his stand-offish personality, which at times appeared to rest upon an understandably defensive hostility.

-Evra considers Monaco return

Whatever the case, this is a shame. Cole's movement was arguably the finest of any attacker in the modern era of English football, resting comfortably alongside that of Freddie Ljungberg, Thierry Henry and Ian Wright. Few players were so adept at diagonal runs across the face of defences, or at cutting onto through balls at the very last moment, taking them off the toes of static defenders.

Cole's performances are perhaps understated, as are Ljungberg's, due to the creative talents who provided them with assists: Peter Beardsley, Teddy Sheringham, Paul Scholes, Dwight Yorke and Eric Cantona in the case of Cole, and Robert Pires, Dennis Bergkamp and Henry in the case of the Swede.

Yet it takes a rare footballing intelligence to anticipate the passes of players as subtle as these, and it is this same nous which was the key to Filippo Inzaghi's outstanding career. Cole had it in abundance.

There is a lingering sense, too, that Cole was only ever there to apply the finishing touch -- this was a perception largely challenged by his superb partnership with Yorke, where the two moved interchangeably at the point of Manchester United's attack during the treble-winning season of 1998-99.

When he was called upon to finish, he could be calm and decisive when it mattered most. Witness, for example, his championship-winning goal in 1999, when his team came from behind to win at Old Trafford against Tottenham Hotspur on the final day of the season; or his winner away at Elland Road in February 2000, which brought his team a 1-0 win over Leeds United, their then-closest challengers.

Orthodoxies, however, are a difficult thing to overturn in football, particularly when the subject of such views is largely determined to let their game alone do the talking. Were Cole on the punditry couch more regularly, many would have an insight into what made him such an effective and very often spectacular forward.

For now, though, his mere statistics will have to do: 121 goals in 275 games for Manchester United, his ratio of 0.44 goals a game marginally superior to Yorke's (0.43), and an untold number of assists or goals created through clever running off the ball.

It is this sheer array and volume of his strikes and attacking contributions, which, in the fullness of time, should win him some favour from the doubters.