Phil Jones, Captain America and the new Vidic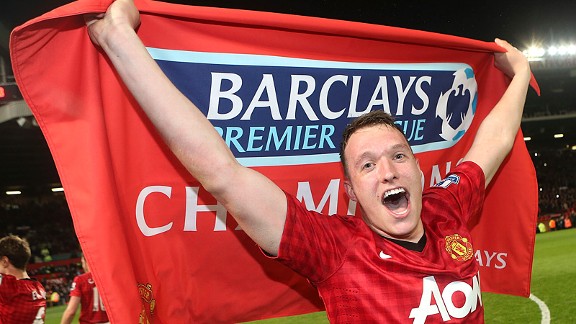 John Peters/Man Utd/Getty ImagesAmusing facial expressions aside, Phil Jones has emerged as one of the best defenders/midfielders in England.
Phil Jones is still only 21. Given the maturity of some of his performances last year, this is something that is sometimes difficult to believe. Jones has, of course, been something of an affectionate figure of fun -- his impressive array of facial expressions have seen to that -- and has, more seriously, faced questions about his best position. Beyond all that, though, he remains, tactically speaking, one of the smartest footballers in Manchester United's squad. If you had to go out on a limb and compare him to a comic book character, you couldn't do much worse than Captain America: not the most elegant or technically gifted, but under his leadership you're most likely to get results.

- Gerrard hopes for post-Fergie 'wobble'

See, here's the thing about Phil Jones. Though he is probably going to end up as a fine and imposing central defender, he has carried out some superb assignments in defensive midfield. It's important to recognise how rare that is. Few footballers can make the seamless transition between centre back and the base of a midfield three -- certainly few English ones, at that. It is difficult to imagine even Rio Ferdinand or John Terry in their prime handling Gareth Bale (away in the Premier League) or Cristiano Ronaldo (away in the UEFA Champions League) as well as Jones did in the centre of the field. Fine players as they both are, they prefer the traditional comforts of their own final third. Of the previous generation of footballers, only Ledley King, a superior ball player to Jones, could have convincingly handled such a brief.

The world's supreme "double expert" at defensive midfield and centre back is, of course, Bayern Munich's Javi Martinez (with an honourable mention for Real Madrid's Pepe); someone whose distribution, again, is far better than that of Jones. Despite that area for improvement, though, the future for the Preston-born player is uncommonly exciting. His apprenticeship in defensive midfield will serve him well when he eventually returns to the centre of defence, as his talent for interceptions will be finely honed. If we look at the most successful centre back partnerships in history, they are those where the two players bring complementary sets of skills. If, say, Jonny Evans and Chris Smalling are to be the understudies in style to Ferdinand, then Phil Jones has the ability to succeed Nemanja Vidic. A comparison with this player might seem premature, but -- like Vidic -- it is Jones' bravery and refusal to be intimidated by an opponent's brawn that marks him out as a truly exciting talent. There was one particular moment against Real Madrid in the Bernabeu, late in the second half, when Jones thrashed out his leg to make a goal-line clearance, that might have most reminded the Serb of himself.

And yes: Jones is only 21. He is the youngest and the least celebrated of his peers in this group of brilliant young players, but his leadership skills, over time, may well emerge as the most remarkable. Under David Moyes, one of the Premier League's keenest observers of the defensive arts, his progress will be of particular interest.