Thiago, and 'Back To The Future' with 4-6-0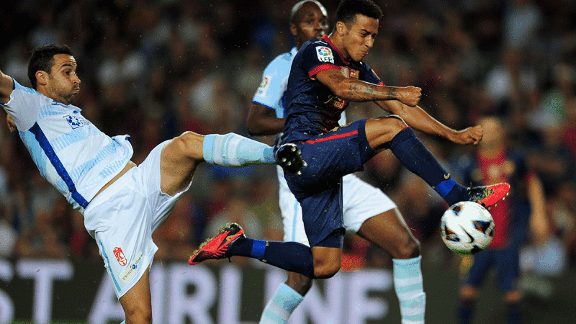 GettyImagesThiago Alcantara's arrival could facilitate a change in formation for Manchester United
Thiago Alcantara, the captain and star of Spain's Under-21 title-winning team, is currently the greatest subject of Manchester United's affection. They are negotiating with Barcelona for his signature, offering him both vastly increased wages and a starting position in their first XI. Various unconfirmed reports of these talks have emerged -- some stating that he has already agreed personal terms with the Old Trafford side, others that he is prepared to stay at the Camp Nou if offered more regular playing time -- but the only thing that is clear is how much Manchester United need him.

- Barcelona determined to keep Thiago
- Thiago named Under-21 MVP


Perhaps the most compelling review of Thiago's qualities in recent days has come from Rio Ferdinand, via Twitter. Just after Spain defeated Italy in the U21 European Championship final, with Alcantara scoring a hat-trick in a 4-2 victory, the defender commented: "Thiago wants the ball under pressure, he demands it anywhere. We need to produce that kind of mentality in our kids".

Ferdinand's second sentence was almost as pertinent here: Earlier in the same tournament, England had been dismissed 3-1 by Norway, the final goal arriving after their midfielders had seemingly been terrified either to pass or receive the ball between the lines, instead passing the ball backwards and into increasingly dangerous areas.

His first sentence, though, illustrated Thiago's greatest value to Manchester United's team. With Thiago's arrival, partnering Michael Carrick in central midfield, the team would have an excellent axis for a 4-4-2 or 4-2-3-1 formation. Crucially, too, if Wayne Rooney stays -- as seems to be his current intention -- then Thiago's skill set allows David Moyes to field both Rooney and Shinji Kagawa in the same starting eleven, to excellent effect.

Specifically, the last time that Manchester United won the UEFA Champions League in 2008, they did so with a 4-3-3 or 4-6-0 formation, with Cristiano Ronaldo flanked by Wayne Rooney and Carlos Tevez, the two wide forwards. If Thiago joins, the same formation is possible again; he, Carrick and Shinji Kagawa could play in central midfield, with Kagawa the most advanced of the three. This would then enable a front three of Robin van Persie as the central striker, Wayne Rooney as one of the wide forwards, and then any other of Danny Welbeck, Wilfried Zaha, Antonio Valencia, Javier Hernandez, Nani and Ashley Young.

Thiago's acquisition would both allow Kagawa to display fully his attacking talents and return Rooney to the 2008 role which he played with such distinction. Tactically, the Barcelona midfielder would allow Manchester United to go "back to the future;" a prospect which, at the potential cost of just £15 million (the amount that triggers his buyout clause), is all the more exciting with each passing day.