The case for Nani staying at Old Trafford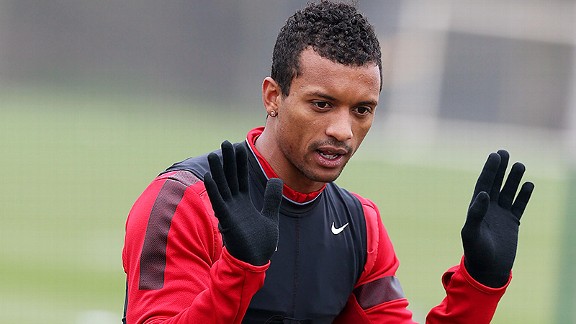 Matthew Peters/Getty ImagesManchester United could still use Nani's playmaking abilities and speed out on the wings.
The speculation grows over Nani's future, with rumours that Manchester United are asking for £8.5 million in return for his services. The talented but inconsistent winger has frustrated many of his own supporters over the years, but there is still a sense that his departure would be premature.

Nani has a year left on his contract, and so the risk is that he will leave next summer for nothing. Arguably the greater risk, though, is that he will leave Old Trafford at a time when the club has a dearth of truly penetrative dribblers.

Nani, for all his faults -- and they are several -- remains, on his day, one of Europe's most dangerous attackers, and before his red card in the UEFA Champions League against Real Madrid, he was on finer form than even Angel di Maria, who at that time was the leading assist-maker in the competition.

- Galatasaray fail in bid for Nani

Of course, the much-mooted replacement for Nani at Old Trafford, one James Rodriguez, was instead enticed by the tax-free riches of Monaco, where having left Porto he will be lining up alongside Radamel Falcao and his old stablemate, Joao Moutinho. Elsewhere across the continent, brilliant wingers -- no matter how mercurial -- are in relatively rare supply. Jesus Navas has already found his way to Manchester City, while Willian, for whom Manchester United were never really in the chase, was signed in spring by Anzhi Makhachkala.

It's not as though Manchester United have been inattentive to their needs in this area -- witness their ultimately fruitless pursuit of Lucas Moura last summer, and their recent acquisition of Wilfried Zaha -- but as it stands, they are low on experienced playmakers. The retention of Nani for one last season, to see whether he might flourish under David Moyes, seems to be the most prudent option.

Nani's future, of course, raises an intriguing question about Moyes and the extent to which he can rejuvenate the Portuguese forward's Old Trafford career. This new dynamic, of not having a manager whom he so often disappointed, will suit Nani well; as, indeed, will the memory that just three seasons previously he was his club's player of the year, amassing almost 20 assists. Were he to part company with Manchester United now, they would be left with only Zaha, Antonio Valencia and Ashley Young, the latter two of whom are functional players at best.

The smart money, then, should be on Nani hanging around. The team's concerns in central midfield are well documented; he should not be allowed to wander out of the door, and create another.