Varela transfer shows need to fill in the gaps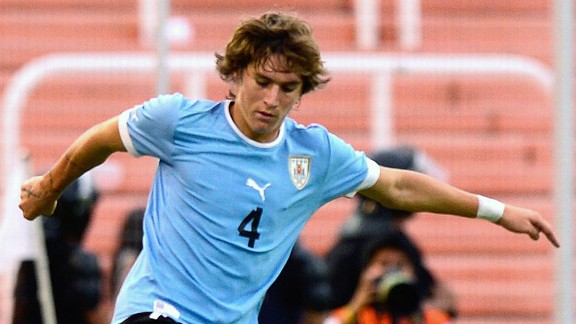 GettyImagesGuillermo Varela has joined Manchester United for an undisclosed fee
Manchester United have signed Guillermo Varela, the Uruguay under-20 defender, from Penarol for an undisclosed fee. Varela, who had a trial at Old Trafford last season, will deputise for Rafael, and his transfer raises a wider issue about the squad that he has just joined.

First, though, Manchester United's fans should feel comforted by this news. Prior to Varela's arrival, the club had only one specialist right back, with Chris Smalling and Phil Jones filling in when Rafael was absent. Smalling, in particular, seemed uncomfortable in this role, caught on his heels several times near the touchline. Jones, though diligent as ever, was no more than adequate in this role, finding greater fulfillment in a defensive midfield role.

Here, then, is the issue: Manchester United relied conspicuously on a core of players -- David De Gea, Rafael, Robin van Persie and Michael Carrick -- to secure last season's league title, and they will need understudies this year. A wise manager, after all, will not bank on them all having exceptional seasons so soon after their exertions this year. Van Persie's exertions were such that he looked exhausted for much of the final third of the season. Carrick, meanwhile, saw a yearlong game of musical chairs next to him in central midfield, with none of his colleagues ever truly sitting comfortably there.

With De Gea the least likely to suffer exhaustion in his role, the question turns to who will be signed to sit in for van Persie and Carrick. Though, in van Persie's case, there are goals elsewhere in the forward line, the fates and form of his fellow strikers are oddly in the balance. Javier Hernandez scored freely from the bench last year, but he may soon feel frustrated at being denied the starting role that his strike-rate probably deserves. Wayne Rooney's future, despite a fairly productive season, remains uncertain. Danny Welbeck, for all his attacking gifts, was somewhat goal-shy last season, and will need to show a greater appetite for goal scoring next time around. The feeling persists that Manchester United, at a time when world-class forwards are being linked with their closest rivals, will need another player near the calibre of van Persie to stay at the front of the pack.

The other question is who, if anyone, will be signed as a stand-in for Carrick? The midfielder has just had arguably his best season for the club -- well, at least that everyone has noticed -- and without him, the midfield was mostly bereft of calm, controlled possession. Much of the talk has been of who will be recruited to play alongside him, with PSV's Kevin Strootman and Barcelona's Thiago Alcantara most often mooted as his accomplices, but what this midfield also needs is a deputy anchorman. It may seem counterintuitive to think of a player's successor in the moment that he is at his peak, but this is the key to continued excellence. David Moyes, having seen the fine signings that Manchester City have already made this summer in Fernandinho and Jesus Navas, will be as wise as anyone to the need for renewal.