Cristiano Ronaldo, and money over sentiment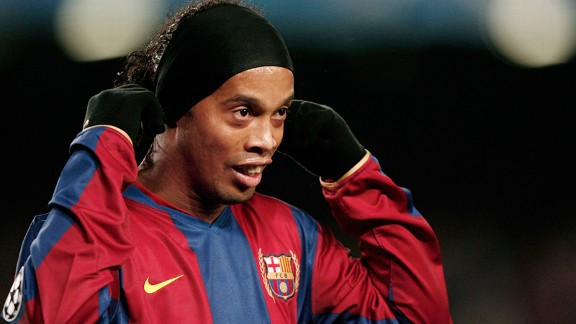 GettyImagesIt is thought Ronaldinho used Manchester United's interest to secure a better contract when he joined Barcelona in 2003
The bubble of speculation grows, and with each passing hour that it swells the temptation also grows to pop it. The rumour is that Cristiano Ronaldo is considering a return to Old Trafford, the club where he came of age and won every individual and team accolade that he could want. The rumour was given further weight by ESPN FC's Graham Hunter, who recently reported that Ronaldo and his team were not looking to renew the Portuguese forward's contract, which expires in 2015.

First, let us indulge the glorious attacking possibilities that Ronaldo's return would produce. A first-choice forward line of almost unparalleled fluidity and technique, consisting of Ronaldo, Robin van Persie, Shinji Kagawa or Wayne Rooney, Danny Welbeck or Wilfried Zaha. A season's worth of disoriented defenders and 80,000 throats sore each week from all the gasping. At a stroke, this would make the football as consistently spectacular as it was when the thrilling trident of Ronaldo, Rooney and Carlos Tevez led Manchester United to their last UEFA Champions League triumph in 2008.

- Rooney unhappy in midfield role
- Van Persie wants more trophies

Let us now step away from the delirious stands and into the world of money, where a look at the cold, hard financial arguments suggest that Ronaldo is most likely staying right where he is. This has more than a whiff about it of a superb contract renegotiation by Cristiano and his team.

Let us consider the facts. Were Ronaldo to return to Old Trafford, he would not find Sir Alex Ferguson -- the man who played something of a paternal role for him over the years -- but David Moyes, a man who still needs to prove himself in one of the world's biggest jobs. Jose Mourinho, the manager who has called Ronaldo a know-all and with whom he had fallen out, has just departed. This will bring some semblance of calm to an embattled dressing room.

Ronaldo has a final year on his contract, in a team that has been designed around him, and whose other forwards are either misfiring (Karim Benzema), past their best (Kaka) or leaving (Gonzalo Higuain). Real Madrid have just lost their manager in acrimonious fashion, and if they wish to keep pace with Barcelona they need some form of consistency, unless they wish to write off the following season. Should Luis Suarez and Gareth Bale join this summer, they will still need time to settle in. Alongside Ronaldo, they would form a strike force that would put that elusive 10th Champions League title well within reach.

Let us consider, too, the parallels. The last time that Manchester United courted a superstar like this was in 2003, when they chased the signature of Ronaldinho from Paris Saint-Germain. Then, as now, another Spanish club was in contention; Ronaldinho ended up at Barcelona, where he excelled. The thinking at that time among Manchester United's executives was that Ronaldinho was not truly interested in a move to Old Trafford, but was merely using their club's pursuit as a bargaining chip to get more cash at the Nou Camp. The same dynamics could be at play here.

It would be romantic indeed if Ronaldo were to go back to Old Trafford; so much so, that it is tempting to be seduced by such a wonderful notion. But the logic which is most compelling at the moment is that of the money men. Robbie Fowler once said that "there is no sentiment in football." Sadly, this situation does not appear to be the exception to that rule.