David Moyes: Not so much continuity after all
When David Moyes was appointed as Manchester United manager, the watchword of many of us in the media was "continuity." With him in the job, the club would be assured a smooth transition to further success.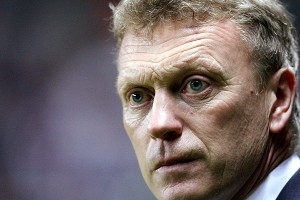 AP Photo/Scott HeppellDavid Moyes isn't waiting to make his imprint at United when it comes to staff or recruiting new players.
Trouble is, on reflection, it's not all that clear what "continuity" actually meant.

So far, it looks as if the only things that Moyes truly has in common with Sir Alex Ferguson are (A) he is uncompromising, and (B) he is Scottish. After all, Moyes has parted company -- perhaps prematurely -- with Eric Steele, the goalkeeping coach credited with bringing the best out of David De Gea this season, and Rene Meulensteen, the first-team coach for so many years under Ferguson.

- Brewin: Moyes must emerge from Fergie's shadow
- Thiago plays down United links

He has replaced them with, respectively, Chris Woods and Phil Neville. Though they have enviable pedigree as players, they cannot claim to be as distinguished as their predecessors -- in which case, perhaps, they share much in common with Moyes.

The other respect in which Moyes differs from Ferguson is in his conspicuous readiness to address the gap in central midfield. So far, Barcelona's Thiago Alcantara, Everton's Marouane Felliani and PSV Eindhoven's Kevin Strootman have been repeatedly linked with United. Strootman has admittedly been in the frame for some time, and Felliani has only recently stated that he is not interested in a move. Yet, crucially, it is Thiago who is the greatest prospect.

Thiago, the son of 1994 World Cup winner Mazinho, was once considered as Xavi's replacement and can offer excellent distribution, movement and goals. The scramble for his signature is likely to be an undignified one, with additional interest from Manchester City, Chelsea and Real Madrid.

His release clause is just 18 million euros, given he did not play 60 percent of Barcelona's games last season. At that price, and at only 22 years old, he is worth chasing the entire summer.

The fact he seems to be at the top of Moyes' shopping list represents an encouraging ambition from the new manager. Moreover, it is a welcome departure from the latter years of Ferguson's tenure, when Michael Carrick seemed at times to resemble the Dutch boy valiantly stemming the dike.

We will see how these and other transfer market moves develop. Elsewhere, Moyes' overhaul of a successful backroom staff gives some cause for concern but also the reassurance that he is very much his own man, dispelling an initial fear by fans that he was some sort of Manchurian Candidate installed by Ferguson, through whom his fellow Scot would retain control of Old Trafford.

That paranoia seems premature on the current evidence. The new path, and the possibility of a new narrative, looks all the more intriguing by the day.