Zaha a no-go for loan at Crystal Palace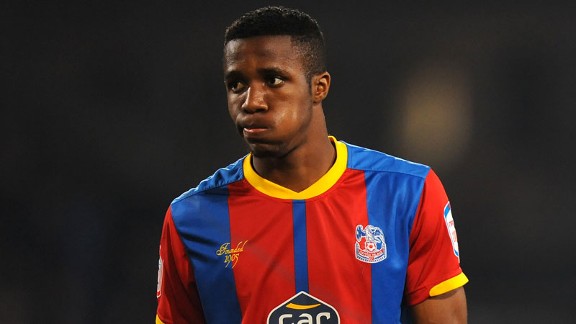 PA PhotosWilfried Zaha was loaned back to Crystal Palace after signing for Manchester United in January.
Following Crystal Palace's promotion to the Premier League, Ian Holloway has shown the optimism of an Englishman wearing shorts in May. With his team having defeated Watford 1-0 in the Championship playoff final at Wembley, he was quick to wonder whether Manchester United might consider letting it keep Wilfried Zaha on loan next season. Given the problems that Manchester United have endured with their wide men this year, it should have been possible to hear cacophonous laughter all the way from Old Trafford.

Zaha, Crystal Palace's star player on Monday and for the bulk of their campaign, will be vital to Manchester United's long-term aspirations. He is joining a team where width is sorely needed; because of the poor or indifferent form of Ashley Young, Nani and Antonio Valencia, Sir Alex Ferguson was often forced to deploy a narrow diamond formation. Both Chelsea and Manchester United are due to improve their squad this summer, and Zaha, with his uniquely penetrative running and growing goal threat, must thus form part of his new team's title defence.

- Palace hope to extend Zaha loan
- Lomas: Palace are Glad All Over

In a game where midfields are so often congested with five players and where there is precious little space for passing between the lines, the importance of an excellent winger cannot be understated. Angel di Maria was Real Madrid's leading provider of assists in last season's UEFA Champions League. Bayern Munich's Arjen Robben was -- eventually -- the decisive figure in the final of this year's European showpiece. Porto's James Rodriguez, a longtime target of United, was this summer the subject of a successful bid of £38.5 million from Monaco.

Zaha's qualities are thrown into sharp focus by such a clamour. He can operate anywhere across the forward line if needed, so he would be equally happy in a 4-4-2 or a 4-2-3-1. Crucially, his skill and acceleration will help Manchester United win the closest of contests, particularly those where they may not deserve to prevail. (That latter quality, after all, is the preserve of champions.) He also stands to learn a great deal from training regularly with players of the pedigree of, most notably, Robin van Persie and Rio Ferdinand, and will be a willing beneficiary of David Moyes' avowed focus on developing young talent.

On an unrelated note -- given that Manchester United and England have often been at loggerheads -- there is also the matter of Zaha's importance to the national team. England's qualifying campaign for the World Cup is proving sadly if typically problematic, and a Premier League season for the defending champions can be no better preparation for Zaha's role in that effort.

Zaha also represents one of the very few Englishmen who can beat his man consistently and, as such, should be given the best possible platform for his talent as soon as possible.

Although some might feel next summer is a tournament too soon for him to make an impact, the England squad looks somewhat workmanlike without flair such as his sprinkled throughout it. This is why, should Crystal Palace make a polite enquiry for Zaha's services next season, the refusal from Old Trafford should be equally polite and equally firm.