Vidic injury requires focus from Rio
It has not been a good week for hard-bitten centre-halves. As John Terry was resigning his England tenure, Nemanja Vidic was quietly yielding to the surgeon's knife. Not only was the Serb's operation kept out of the news until the deed had be done, it was also to the same knee which kept him out last season. Initial prognosis is that he will be out for eight weeks, Manchester United will be hoping that it won't be much longer than that.

There are worrying echoes of the injury sagas suffered by other United greats towards the end of their careers. Gary Neville's prolonged battle with injury saw his comeback put back innumerable times.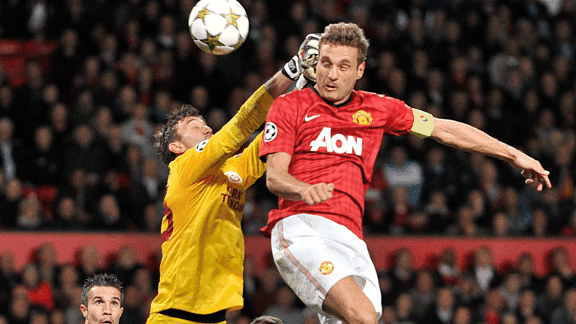 PA PhotosNemanja Vidic is set to miss matches in the Capital One Cup, Premier League and Champions League


The escalation of Vidic's situation has been rapid. Seven days ago he was starting against Galatasaray, at the weekend he complained of "tightness in the knee" and as quick as a flash he was operated on.

Vidic has not been entirely convincing so far this season but it is his presence as much as anything else that is crucial. In a team without an established goalkeeper, having your captain in defence is reassuring. However, United did amass 89 points last season without him, a total that would usually win the league.

United's current injury list looks very similar to the defensive line-up itself. Chris Smalling and Phil Jones are both yet to resume training after their injuries, and that leaves us with Ferdinand and Evans. But Rio has his mind on other matters.

Ferdinand's ambitions of joining the England set-up after the departure of John Terry seem hopelessly poorly timed and are unlikely to be encouraged by his club manager. This is tough on Rio, but he is surely aware of which side his bread is buttered on. Particularly after his treatment by the FA after his ban in 2004 and the support he received from United.

All eyes now turn to the defence Fergie fields against Newcastle in the League Cup. More than likely we will be introduced to Michael Keane and Scott Wootton, who have half a first team performance between them. Now more than ever, Manchester United's famous production line of talent from the youth team needs to bear fruit. Do we have a hidden gem?

Follow Mark on twitter.com/markjpayne