Sir Alex's reign draws to a close with fitting thriller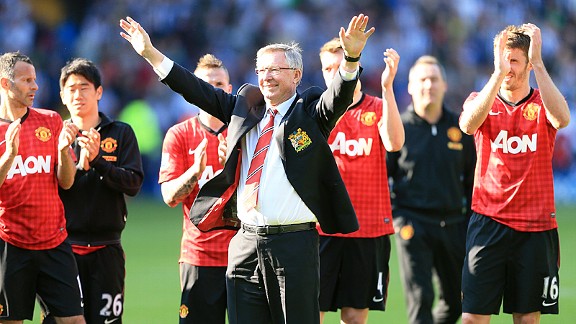 GettyImagesSir Alex Ferguson salutes the Man United fans after his management career officially came to an end at West Bromwich Albion.
There it is. A draw to close it all. West Bromwich Albion 5, Manchester United 5. Sir Alex Ferguson's final game as manager ended, fittingly, with his side chasing a last-minute goal. The score line was one that neither Ferguson nor the Premier League had experienced before, and had you paused the game with a half hour gone, then such an outcome would have seemed implausible.

Indeed, if you had been told at that point that the game would yield 10 goals, you would have assumed that they would all be scored by Manchester United. By that point, they led by three goals to nil -- with strikes from Shinji Kagawa and Alexander Buttner, and an own goal from Jonas Olsson -- and, but for the oddly profligate finishing of Javier Hernandez, the score should have been more.

- Evans: Baggies bounce back in a stunning finish
- Fergie signs off with wine, not win
- Jolly: The games that swung the title

Manchester United began playing football as fluid as they have managed all year, belying the fact that some of their most experienced players -- Paul Scholes, Ryan Giggs and Rio Ferdinand -- began the afternoon on the bench.

United's opening goal was beautifully worked and stemmed from the most patient of possession football in the guts of their own penalty area. From there the ball was shuttled smartly on one touch, through the midfield, 'til Tom Cleverley clipped a long pass out to Hernandez on the right flank. His cross was headed home at the near post by Kagawa, who despite being the shortest rose the highest to meet it.

Shortly afterward, a surprisingly exuberant Antonio Valencia drove the ball across goal, which found a favourable deflection from Olsson as it edged past goalkeeper Ben Foster.

Twenty minutes later, the game seemed to have dissolved into a carnival, with a clever sequence of first-time passes exposing West Bromwich down the left flank, where Buttner provided a confident drive into the far corner to finish. 3-0; but that's when things got interesting.

Buttner, not for the last time on Sunday afternoon, was outmanoeuvred, and Graham Dorrans' cross found James Morrison six yards out; 3-1. This was with five minutes to go of the first half, and had Ferguson known what was coming in the second period, he might have reached for the hairdryer one last time.

As it turned out, the second half was a preview of what the next five years of European football might look like; that is to say, with Romelu Lukaku's name at the top of its billboard. The Belgium forward, still only 20, scored a hat trick, only the third against Manchester United in the Premier League, and overwhelmed Buttner and Anders Lindegaard with graft and guile.

A substitute, he announced himself early with a firm drive, but then saw his team fall further behind with well-crafted goals from Robin van Persie (his 30th of the season) and, finally, Hernandez (his 18th). Then, though, with just 10 minutes to go, Lukaku took over, scoring and inspiring the other as West Brom netted three times in five minutes.

It was a rally of which Sir Alex Ferguson himself would have been proud; elsewhere, as if to maintain this sense of tradition, Scholes came on and produced a challenge that probably should have yielded a yellow card. Not to be denied, the greatest English midfielder of his generation soon claimed a souvenir booking.

By the end of it all, though, Ferguson didn't seem too unhappy. He wandered over to the away fans, who had been chanting his name and that of successor David Moyes throughout, as his players looked on and applauded. In the end, it didn't really matter; school was out, and so was he, Manchester United's grand old headmaster heading off home at last. The club is immeasurably better off for his tenure, and will remain forever grateful for every lesson he has taught.