Farewell Paul Scholes, football's quietest superstar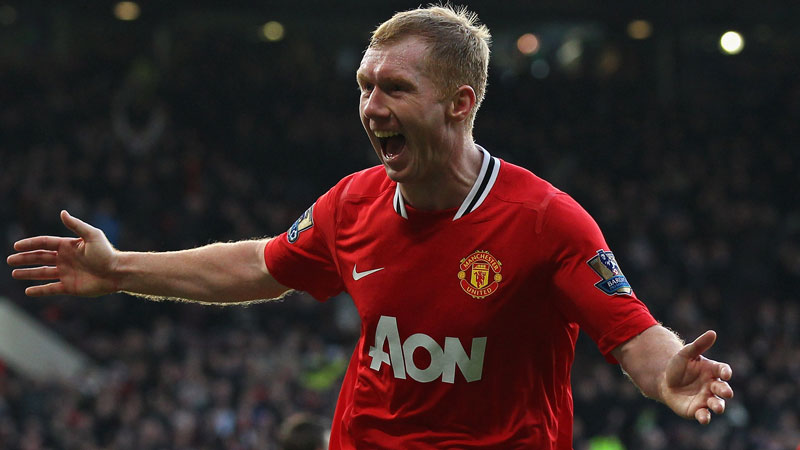 GettyImagesPaul Scholes has called time on his career for a second time

Paul Scholes. He was simply always there. For someone so good at evading the spotlight, he always occupied it when he was needed. The season when Manchester United claimed a spectacular Treble of Premier League, FA Cup and Champions League saw him called on more than most, a year when he delivered glorious moments to order. In 1998-99, he provided ample goals and assists, but the mere numbers will not show how central he was to this thrilling cause.

- Brewin: Scholes among the last of the one-club men
- Gallery: Paul Scholes

It was a form of sorcery, really. Scholes would be nowhere in sight; but to summon him, all you'd have to do was set a rebound loose in the box. And there he'd be. He was there late, very late, in that league game against Liverpool at Old Trafford, when Andy Cole's square pass found its way to the top of the area; he was there late, very late, in that Champions League quarterfinal against Inter, underneath that knock-down at the very end of normal time. Whenever a contest was poised, there he would arrive. It is uncanny how many of his strikes or passes came at such a time: He would score the equaliser away from home, the second goal in the hard-fought 2-0 win, and he did it week after month after year after decade. If only his tackling had been as magical, but Scholes, sport's quietest superstar, has always been a man of sharp contrasts.

Now he retires, playing his final home match at Old Trafford, and Manchester United's supporters will do their best to show him enough gratitude. They will struggle, since in his umpteen seasons at the only club he has played for he has displayed an array of passing and a breadth of vision that few in football's history have matched.

For an Englishman, it is notable how many of his plaudits came from abroad. Zinedine Zidane loved his work, as did Xavi; and there was a great deal about his play that recalled the "circulation football" of Dutch managerial great Rinus Michels, moving the ball about the field like blood through healthy veins. Other countries will miss him perhaps as much as his own, which never quite knew what to do with him in the later stages of his international career; they moved him out to the left wing, even though he had far more spatial awareness than those handed the reins of central midfield.

No matter, though. His second retirement, coming two seasons after his first, will see him ebb into the shadows, this time presumably for good. He has been replaced in Manchester United's midfield, but he will most likely not be surpassed. As he goes, the crowd's applause will be as deafening as the silence he humbly maintained before the media; and there can be no more fitting contrast than that.