Manchester United: the pre-Fergie era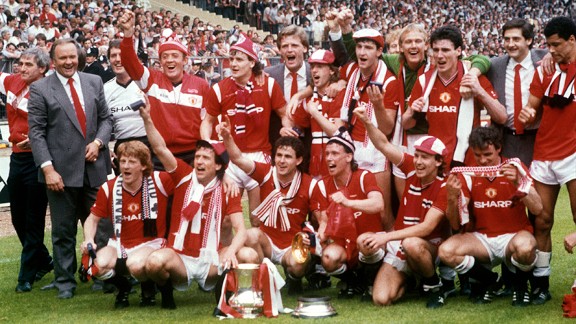 PA PhotosAtkinson, left, celebrates winning the 1985 FA Cup with Man United.
Manchester United before Sir Alex Ferguson: how to describe them? A slumbering giant, a sleeping beauty? Well, perhaps neither. Having been relegated in the mid-'70s, and largely chastened in the First Division since their return, there was for a long period little consistent evidence that the club was due a return to dominance.

There was a great expectation which overwhelmed successive managers, each of whom eventually succumbed without glory. The low points were perhaps the tenures of Tommy Docherty and Dave Sexton between 1972 and 1981, when two talented managers found a challenge beyond them: a feral, restless Old Trafford crowd, furious at the passage of past triumphs. United spent that decade mostly on the sidelines of domestic and European football, taking an FA Cup from Liverpool in 1977 but otherwise powerless to prevent the march of the Anfield club.

- Marcotti: What next for United?
- Brewin: Sudden end to legacy
- Payne: Fergie and Busby
- Jolly: Fergie a relentless winner
- The search for Sir Alex's heir
- Potential successors gallery
- Ferguson's famous quotes

This seemed, for a time, to be Manchester United's role: the retired raconteur at the local pub who would regale you loudly and somewhat wistfully about the great days he'd once had. Immediately prior to Ferguson's arrival, though, there was a certain sense that this might change. The Glaswegian's predecessor was Ron Atkinson, who in many ways was the perfect metaphor for what the club had become: flamboyant but reckless, spectacular but ultimately erratic.

In 1985-86, Atkinson presided over the most compelling challenge that Old Trafford mounted to Liverpool's empire, winning the first 10 league games of the season before subsiding in agonising fashion. He also claimed two FA Cups, in 1983 and 1985, and took his team to the semifinals of the European Cup Winners' Cup, memorably defeating Barcelona on the way there. During that period Atkinson's team was driven forward by the brilliance, unfortunately slightly too brittle, of Bryan Robson and the emerging talents of Paul McGrath and Norman Whiteside. Other stars of this era would include Ray Wilkins, the exceptional passer who would find himself at home in many of today's finest midfields, and Mark Hughes, the striker of sublime volleying technique who would bring Ferguson his first major European triumph (the European Cup Winners' Cup, against Barcelona in 1991).

Looking again at this era, though, it does appear that Atkinson's time at the club is now somewhat maligned. Atkinson, after all, had to contend with the strongest Liverpool team in history, who at that time had a fine string of managers within their stable: the torch being passed carefully from Bill Shankly to Bob Paisley, and then on to Joe Fagan and Kenny Dalglish. This dynasty was so powerful that even Ferguson, on his arrival in England, struggled to keep pace with it. With that considered, Atkinson's tenure -- which featured a few top-four finishes -- was a very helpful platform on which Ferguson could build.

However, the one thing Old Trafford truly lacked prior to the Scot's arrival was discipline, and this remains the harshest indictment of the Atkinson era. Several leading figures in the dressing room had abandoned themselves to the drinking culture that pervaded English football at the time. United's players, enjoying their return to what was, relatively speaking, the limelight, were indulging themselves rather like the struggling entrepreneur who has just had his first windfall.

This is perhaps why the appointment of a disciplinarian such as David Moyes may have a certain appeal to Ferguson: because he remembers all too well the difficulty of marshaling a group of talented but wayward professionals into driven, consistent winners.

Ferguson will know, too, just how easy it is for an elite club to slip into disrepair. Over the last 26 years, he has created several teams in his own image: dogged, uncompromising, often rich in flair, but very often highly pragmatic. He has also created a sense that championships should be delivered as if by conveyor belt. The lesson he has learned, of course, is that continuity is key, which is why he has carefully recruited a good blend of professionals. The old United were a team that lived fast with little thought of tomorrow; it is the new, more thoughtful outfit that is the best form of departure from the pre-Ferguson age.