United victorious on an emotional day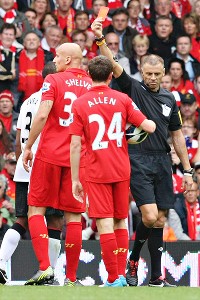 no_source / John Peters/Getty ImagesSeeing red: Jonjo Shelvey was sent off after his tackle on Jonny Evans.
Manchester United's 2-1 win over Liverpool was a match unusually laden with emotion, even for an encounter of this nature. Being Liverpool's first home game since the publication of the Hillsborough report, it was an occasion which all hoped would be marked with appropriate solemnity.

Pre-match controversy was doused when Patrice Evra shook hands with Luis Suarez, who served a suspension for racially abusing the France left back last season, and then the tribute began: Ryan Giggs, the Manchester United captain for the day, released 96 balloons to commemorate the 96 victims of the 1989 tragedy, as Sir Bobby Charlton brought out a bouquet of flowers. The home fans then unveiled a stadium-spanning red-and-white mosaic bearing the words "The Truth." Following a lusty and rousing chorus of "You'll Never Walk Alone," the game began.

Or, rather, Liverpool did. They were playing in a 4-3-3 formation, with Manchester United lining up in a 4-4-1-1, missing Nemanja Vidic, with Michael Carrick and Giggs facing a midfield three of Jonjo Shelvey, Steven Gerrard and Joe Allen. Liverpool, buoyed by the intensity of the crowd, started perfectly. Within the first 10 minutes, Steven Gerrard thrashed the ball narrowly wide from Jonjo Shelvey's short corner, and Luis Suarez, having been played in by Raheem Sterling -- with whom he would combine in compelling fashion throughout the first half -- forced Anders Lindegaard into palming away a hard and low strike from 10 yards out.

Four minutes later, the Uruguayan then played Fabio Borini in behind Rio Ferdinand, one of the few occasions on which the centre back was exposed in the match, but Borini took the ball too wide to his right and the chance was lost. The pressure continued in earnest.

Manchester United had little to show for their efforts other than Giggs' shot high and wide of Pepe Reina's left upright, set up by the busy but isolated Shinji Kagawa, and a speculative free kick from Nani, some 40 yards out, that floated forlornly into the crowd. After half an hour, shortly following a link-up with Sterling where Suarez had curled the ball narrowly over the bar, the possession figures stood at 65 percent to 35 percent in favour of Liverpool. Martin Kelly was emerging as their outstanding performer, with several overlapping runs from deep that were causing Evra substantial problems.

Soon after came the match's first major moment. Shelvey, chasing a loose ball from a previous challenge, went in for a 50-50 challenge with an equally resolute Jonny Evans, and caught him with his studs showing. After some deliberation, Mark Halsey drew the red card from his pocket. Liverpool, dominant till then, had been deprived of their most combative midfielder.

All the same, they rallied until the half. There was still time for a free kick from Suarez, at 41 minutes, which Anders Lindegaard turned away low to his right. It said plenty that the Dane was probably Manchester United's best player in the first half.

Halftime saw Paul Scholes introduced for Nani, with Giggs shifting to the left wing, and Suso introduced for Borini, with the Spaniard immediately adding width and wit of movement. He was involved in Liverpool's taking the lead, breaking free down the left and feeding the ball into Glen Johnson, whose shot found its way through most of the Manchester United back four to Gerrard. Twelve yards out, the Liverpool captain eased a left-foot half volley into the bottom-right corner, and pointing to the sky in remembrance of the Hillsborough victims, wheeled away to celebrate in front of a rapturous Kop.

Manchester United, though, are perhaps known above all for resilience, and within a few minutes they equalised with a fine strike from right back Rafael. Antonio Valencia, who would later make another vital intervention, crossed the ball in from the right. Kagawa chested it into the path of Rafael, and the Brazilian then curled it up and across Reina into the top-left corner, the ball kissing the upright before falling into the net.

The chances and incidents continued: There was now more balance to the play, but Liverpool's attacks remained far more fluent and purposeful. Both Sterling and Suarez went down in the penalty area, but nothing was given. A minute later, Paul Scholes was awarded his customary yellow card for a late challenge on Sterling. And then Suarez hit a low drive across Lindegaard's goal, and had another tipped over.

Given this concerted pressure, it was surprising that the Liverpool manager Brendan Rodgers chose to substitute Raheem Sterling after 66 minutes, as the forward had been one of his team's most impressive performers.

Ten minutes later came the moment that decided the match. Valencia burst onto a loose ball on the halfway line and surged toward goal, his rampage impeded, in the judgement of Mark Halsey, by Glen Johnson. Whilst Daniel Agger was being treated for a collision, Robin van Persie then had to wait four minutes to take the penalty, in which period he had time to ponder that his team had missed three penalties in three previous matches. When his moment came, though, he hit the ball high and powerfully to Reina's left, the ball tearing into the net despite a strong upper hand from the Spaniard.

There was one final chance for Liverpool in the 83rd minute, when Martin Kelly rose to glance a Glen Johnson cross wide of Lindegaard's left post from 8 yards. And after seven minutes of injury time, the game was done. Manchester United have rarely been as poor at Anfield in recent years, but with their first win at this most hallowed of grounds since 2007, they will not be complaining.

Manchester United 2 (Rafael 50, van Persie pen 80), Liverpool 1 (Gerrard 46)

Teams:
Liverpool (4-3-3): Reina; Kelly, Skrtel, Agger (Carragher 79), Johnson; Allen, Gerrard, Shelvey; Borini (Suso 45), Suarez, Sterling (Henderson 66).
Red cards: Shelvey.
Yellow cards: Reina.
Manchester United (4-4-1-1): Lindegaard; Rafael (Welbeck 88), Evans, Ferdinand, Evra; Valencia, Carrick, Giggs, Nani (Scholes 45); Kagawa (Hernandez 81), van Persie.
Yellow cards: Scholes, van Persie.