United fall as Juan takes Mata into his own hands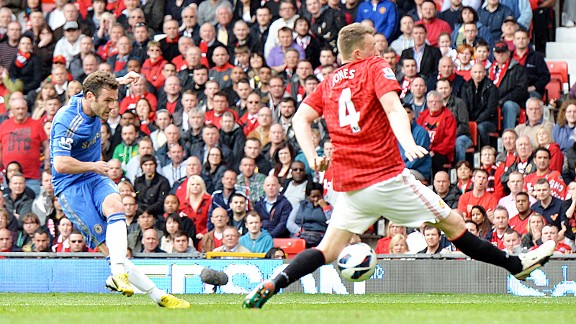 GettyImagesJuan Mata's shot deflected in off Phil Jones for Chelsea's winner
So that's another result for Rafa Benitez at Old Trafford, after his Chelsea team defeated Manchester United, the new champions, by one goal to nil; following a game that, for much of its ninety minutes, often resembled the world's most expensive Sunday afternoon stroll. The home side had not been involved in a 0-0 draw for 113 games prior to this one, and for 86 minutes that streak looked like ending. Had it done so, the scoreline would have been an accurate reflection of the afternoon's endeavours. It's not so much that several players were not industrious -- Juan Mata, whose deflected strike off Phil Jones earned victory, showed up frequently and purposefully on either flank and through the middle -- but that they largely served, as a whole, to nullify each other.

Sir Alex Ferguson's team selection implied a policy of containment, with Anderson, Tom Cleverley and Phil Jones operating through the centre. Shinji Kagawa, Wayne Rooney and Michael Carrick were all either rested or benched, and so the team's only first-class playmaker was Ryan Giggs, who linked fitfully with Robin van Persie throughout.

- Lythell: Mata takes Chelsea to brink of UCL
- Jolly: Mata inspires and enhances Rafa's CV
- Video: Nani going nowhere, says Fergie
- Chelsea boost European hopes

Chelsea, who needed three points to stay on target for Champions League qualification, started with far more urgency, with great fluidity of movement between the front four of Mata, Victor Moses, Oscar and Demba Ba. On two occasions Mata, outstanding throughout, floated the ball towards the far post and beyond the grasp of Anders Lindegaard, where his crosses narrowly failed to find contact. Then Oscar advanced unchallenged, shown deference by Phil Jones, and drove in a low shot that Lindegaard palmed against his left-hand post. The home side truly threatened on only two occasions, when Anderson was played through the middle and then received a square pass six yards out, but on both occasions he was just unable to get beyond his covering man.

The second half offered little better and was notable for poor delivery by Manchester United from wide areas. Antonio Valencia and Jones fashioned themselves promising positions and then offered sub-standard balls into the box. At the other end Mata continued to prompt, winning a free-kick on the edge of the area and floating crosses into dangerous areas, only for his forwards to fail to profit. As the Spaniard has done so often this season, he finally took matters into his own hands. Very late in the game, with Ramires having won the ball in disputed fashion on the edge of his own area, Chelsea broke clear and the ball eventually found itself at Mata's feet wide on the right of the United box. From there, the number 10 drove the ball towards the bottom right-hand corner, and it took a deflection from Jones' trailing leg on its way past Lindegaard.

Remarkably, the game's main talking point came after this goal, when, in injury time, Rafael retaliated from a raised arm by David Luiz, kicked the Brazil defender in the ankle, and was promptly dismissed. Luiz, in a move that saw him briefly claim the vacant mantle of Luis Suarez as Premier League supervillain, chuckled to himself as he awaited Rafael's inevitable dismissal. Even this slapstick, though, could not redeem the game as a spectacle. Manchester United drift on, understandably distracted, to this year's finishing line, as the match evaporated with all the atmosphere of a spirited preseason friendly.