Sir Alex Ferguson, 1993 and Jay-Z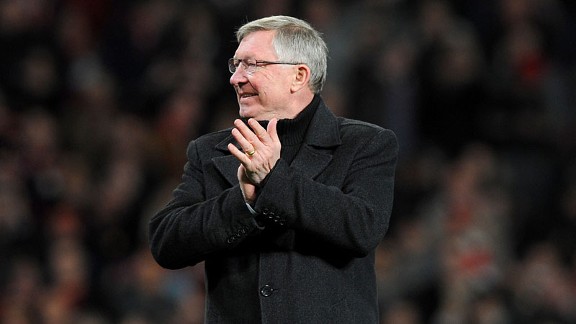 PA PhotosSir Alex Ferguson might have 99 problems, but the title ain't one.
Twenty years ago today, Manchester United, led by Sir Alex Ferguson, won their first league title in a generation. Not since 1967 had they reached the peak of the domestic game and suddenly, joyfully, here they were again. It was as if an aging rock band had returned with a brilliant new album, as if an F1 driver in his dotage had climbed back into the cockpit and given his younger rivals a master class at Monaco. There is perhaps nothing in sport as cathartic as the comeback. After a quarter century out in the cold, United's was as emotional as they came.

For any supporter of Manchester United who has grown up in this era, the club's subsequent dominance has provided an important lesson in success. It is remarkable how many of those victories were achieved with very little to spare: how, but for a moment's less perseverance, history would all look utterly different. The club's two UEFA Champions League trophies, for example, could just as easily have ended up in rival hands. On several occasions, Manchester United have either overhauled other teams or been overhauled in the closing games of the season. Since 1993, Old Trafford has welcomed the championship trophy 12 more times, but that record disguises the desperation with which many of them were grasped.

- Stats: Phil Jones better than we think?
- Payne: United's first-time title winners

At a time like this, then, it feels appropriate to note the importance of luck. Of course, Manchester United have worked very hard for all that they have. But, to return to the musical analogy, there are many brilliant bands who, for all their eye-watering efforts, will never make it big. In order for a group to go stratospheric, fate must be entirely in your favour. To quote Jay Electronica, it is necessary that "the stars align like cars at Grand Central Station".

In 1993, the stars duly fell into line. At that time, there was no overwhelming power in British football. Liverpool were between eras of great players, and for a variety of reasons had not managed that transition well. Arsenal had unseated them, yet the crown did not sit so firmly on their heads. Norwich, Leeds United and Aston Villa had the look of perennial challengers. During this power vacuum, it all came together at Old Trafford. Ferguson was the super-producer, Eric Cantona the first star in his hit factory. Since then, as we all know well, Ferguson has led many groups of talented artists to No. 1.

Ferguson has seen it all at Old Trafford. In fact, the only other figure who has held sway so in a field as capricious as football is Jay-Z, a fellow working-class outsider now feted by his Establishment.

The Brooklyn-born rapper made his breakthrough in popular entertainment around the same time as Ferguson - his "Reasonable Doubt" LP came out in 1996 - and, like the great Scot, he has outlasted various brilliant peers. Like Ferguson, he shows no sign of retirement, even if he has had the odd dodgy year or two. Central to their reigns, I think, is one common element, which is that they both understand perfectly the anatomy of glory. They understand, in a brutally competitive world, that constant evolution is necessary and that complacency is the surest path to decline.

It is this intuition, this restless desire for renewal, that is most exciting for fans of either artist's work. And just as Jay-Z's recent release of "Open Letter" was an indication that his best verses may yet be ahead of him, so the new generation of players at Old Trafford may yet prove to be one of Ferguson's finest cohorts. For now, though, it is most fitting to acknowledge this Scot's 20 years at the top of the English charts.