Van Persie, Kanye and clapping at your ex's wedding
So on Sunday, Robin van Persie is going round to his ex's house for the first time since the break-up. This is an awkward conversation at the best times, but few former lovers have to contend with tens of thousands of broken hearts as soon as they open the front door.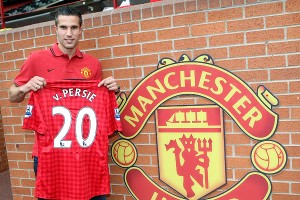 John Peters/Man Utd via Getty ImagesRobin van Persie broke a lot of hearts at the Emirates, but won quite a few at Old Trafford.
And this is the worst thing about meeting up with an ex again: it's almost always the case that one of you is dealing with the end of the relationship better than the other. Normally, as is the cruel way of these things, it's the person who ended it all who is faring well; who, suddenly free from the shackles of a moribund affair, goes on to find true happiness elsewhere.

And now that Manchester United have won the league title, it's not as if there will be anything else to distract the Dutchman from this subtext. Hell, it isn't even the subtext. It's the main script.

-Ferguson: RvP won't be intimidated
-Wenger confirms guard of honour
-Limbert: Respect & honour at the Emirates?

And in this script? Well, Arsenal are that faithful partner who nursed Robin van Persie's ego and health to a point where he was about to claim the world: who, on the verge of his true breakthrough, were unceremoniously jilted.

There's a Kanye West lyric on "Touch The Sky", where he talks movingly of a woman who stood by him during his darkest moments of creative and financial despair: "Before anybody wanted K West beats/Me and my girl split the bucket at KFC". I had always wondered who that girl was, who quietly disappeared as Kanye swaggered off to fame, immortality and the arms of Kim Kardashian. Now I know who she was. She was Arsenal.

It's sad that it all ended this way. From beyond the Emirates, the marvel was that van Persie stayed as long as he did: after all, it's not as though other teams don't have world-class medical facilities, and he was certainly a talent worth the indulgence.

No: the heartbreaking thing about van Persie was that his transformation to a world-class striker is perhaps even more dramatic than that of Thierry Henry. Henry had at least shown lethal finishing at the highest level very early in his career, for Monaco and France. But van Persie, though blessed with the greatest technique, looked for much of his early years at Arsenal as if he would only be the master of the delightful cameo. Arsenal didn't just make him consistent. It pretty much made him altogether.

This, I think, is why many Manchester United fans were somewhat sheepish when van Persie signed last summer. Their club, after all, is one which prides itself on developing players into world-beaters. It's not the Old Trafford way to simply go out there and snatch the perfect man from someone else's clutches. And now, van Persie will be walking towards the altar with Manchester United on Sunday, and a chapel full of his exes are expected to clap him down the aisle.

In these circumstances, it will be natural if the odd boo rings out. When you're single and you see your ex thriving, it's natural to get despondent about your own lack of mojo. Yet there's some room for solace, and though it's unlikely that Arsenal will claim it, it's still worth noting.

The thing about footballing success, of course, is that it's cyclical, and even though they are supposedly in a downward phase Arsenal still find themselves third in the league, just five points behind Manchester City and with a superior goal difference. At an absolute stretch they may even end up second in the table. All told, that's not such a bad year, even if they don't currently have the inclination to pop open the champagne.

And for Manchester United? Well, they shouldn't be too complacent. This season saw van Persie in a vein of form so extraordinary that it is difficult to repeat -- the honeymoon period, if you will. Meanwhile, Arsenal should comfort itself that it is still attractive enough to attract brilliant suitors such as the Dutchman. Hopefully the London club will enjoy its own wedding bells before long.