Manchester United: Returning like Roger Federer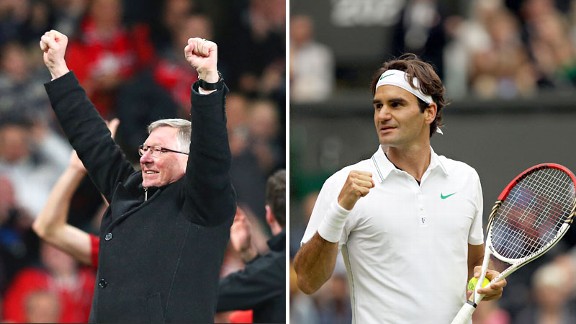 Getty ImagesThe traits exhibited this season by Sir Alex Ferguson's Manchester United are like those of Roger Federer on the tennis court.
So Manchester United have clinched their 20th league championship with a 3-0 victory over Aston Villa. In their grand duel with Manchester City, this was the equivalent of Roger Federer dragging Novak Djokovic back to one set apiece. This was a title of crucial importance. It was a season when Sir Alex Ferguson had to prove that his new generation of stars had the staying power to compete with the greatest threat that they have faced since Jose Mourinho's Chelsea.

Much has been made of the supposedly inferior quality of this year's champions, compared with previous teams who have walked Old Trafford's hall of fame. It is difficult, however, to remember an outfit more resilient. Even at the halfway point of the season, by which point they had conceded almost thirty goals, they were still in contention for the league. Time after time they seemed outmatched, falling behind week after week. If this title race was a rally, then somehow they still kept scrambling the ball back into play.

- Payne: Welcome to Vanchester
- Delaney: United deliver champion performance
- Fergie revels in title dream

There is a point in every Federer match when the momentum changes: when his opponent realises that he has given him just too much time to recover his wits, and he dusts himself off, jugular untouched. After that point, the poor opponent may as well fill in the unhappy blanks on the rest of the scoreboard because Federer then becomes uniquely ruthless. In terms of momentum, the same is true of many recent Manchester United seasons; in their case,the point tends to arrive just after Christmas. From then until May, they are generally as vengeful as Federer, if (on this occasion) somewhat less elegant. The capitulation to Manchester City over the last six games of last year was a traumatic departure from that narrative, and so Robin van Persie was recruited to provide a different script.

It was fitting, then, that the Dutchman should last night provide the three goals that sealed the league. His second was as graceful as any Federer groundstroke, a volley so thrilling and triumphant that it was not so much a goal as an act of catharsis. With it, the match was effectively over after twenty minutes, and van Persie's celebratory sprint took him back before the halfway line almost before anyone could catch him. His elation -- and his relief -- was shared by tens of thousands within the ground, and hundreds of millions beyond it.

Yet, like Federer, van Persie and Ryan Giggs -- the latter claiming his 13th league winners' medal -- may be aging champions, this victory owed much to the new guard. David De Gea, Phil Jones, Tom Cleverley, Danny Welbeck and Shinji Kagawa all won this championship for the first time, and it is vital for Ferguson's long term project that they have tasted Premier League glory so early in their careers. Elsewhere in the team there are talents as young as they are seasoned in this contest. Most notably Rafael, alongside Pablo Zabaleta the outstanding right-back in this division, is still only 22 and will have raised this trophy three times. At 25, Jonny Evans has become the benchmark for defensive consistency, central to Manchester United's concession of only seven goals since the season's halfway mark.

Manchester City must now regroup, and swiftly, since their rivals first thought will turn to reinforcements. Despite Wayne Rooney's impressive turn in central midfield last night, this is an area of grave concern; not only must Michael Carrick acquire a suitable partner there, but he should also receive an understudy. The left-back position needs more competition than Alexander Buttner can offer Patrice Evra at present, and Manchester United's wingers -- each of whom have had startlingly poor seasons -- may face an awkward end-of-term conversation with Ferguson.

For now, though, it is time for the squad to celebrate a year when so many of them came of age, led by van Persie, a quietly supreme superstar. Federer, a passionate football fan himself, would have nodded in approval.