United game for a scrap -- and title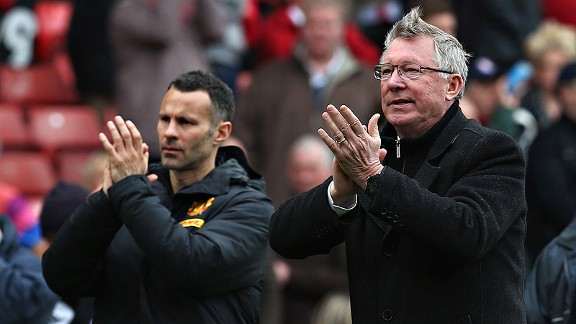 John Peters/Man Utd/Getty ImagesRyan Giggs and Alex Ferguson are now just 90 minutes from clinching yet another Premier League title for Manchester United.
There are many faces to the current Manchester United team. This season they have shown tremendous attacking will with several comebacks. Lately, they displayed defensive excellence with a run of clean sheets. And in the Champions League against Real Madrid, they were a storybook of energy and tactical discipline. In the past two matches they have shown grit, and they will need it again at Old Trafford on Monday night (2:55 ET, ESPN2, ESPN3/WatchESPN) with a chance to clinch the title.

-Evra: Critics want United to fail
-Hughes: Should Villa stick or twist?

"We expect a scrap," said Sir Alex Ferguson on Friday. He was referring to the fact Aston Villa are in the relegation dogfight at the bottom of the table, but he could just as easily have been referring to his own side. The team which lit the blue touch paper earlier this season is brawling its way to the finish.

However, Ferguson's assertion that Upton Park was a "war zone" on Wednesday night was wide of the mark. There were no yellow or red cards issued throughout the match for rough play (though West Ham's Andy Carroll picked up a yellow for dissent). In fact, there were only 16 fouls in the entire 90 minutes; the 2-2 draw was a good game.

In the real world, a 'scrap' is a fragment, or a piece of something larger. Right now, United are not capable of stringing together the same attacking fluency they produced earlier in the campaign. Only Shinji Kagawa showed the kind of flair needed to win the game against West Ham, and he was heavily involved in both of United's goals.

But even he was patchy over the course of 90 minutes. United need their top guns to play well for a full game -- it is about time.

The match against Villa will be United's 50th of the season and victory would see them clinch the title after City's loss at Spurs. Last November, the previous fixture at Villa Park was an epic in which United fought from two-nil down to snatch a late victory courtesy of goals from Javier Hernandez. Villa can be expected to attack again.

In Christian Benteke and Gabriel Agbonlahor, Villa have strikers who can bother any defence. Benteke has devoured several full backs this term and scored 15 goals in the process. Throughout the side Villa have young and hungry players keen to make their mark. As they are still close to the relegation trap door, it is arguable they might have more desire too.

Ferguson will need to bear all this in mind whilst also realising that Villa have often got less than they deserved against United. The midlands club has recorded only one victory over United since 1995, but have possibly been worthy of more.

"Any win will do," Sir Alex said before United defeated Stoke last weekend. At that point, they were desperate for a victory and duly got one as Stoke rolled over.

The sentiment will be the same at kick off on Monday, but Villa are likely to have more about them than the Potters did. United will be hoping they can play well for the whole game, not just parts of it.
Follow Mark on twitter @markjpayne