Michael Carrick, Olly Syrus and Nate Dogg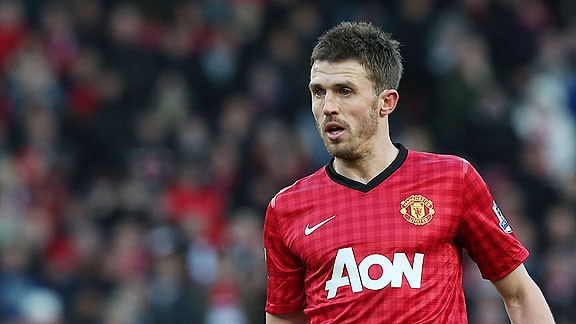 Matthew Peters/Man Utd/Getty ImagesManchester United's Michael Carrick is a nominee for the PFA Player of the Year.
Olly Syrus. Now there was a player. Even the name was epic. He sounded like an extra from Clash of the Titans; with a surname like that, he could at the very least have been a cousin of Odysseus.

But Olly wasn't a Greek god; he was one of the midfielders in my second season at university, a year in which we achieved relegation from the first division. The year before, we, St. John's College, had won the league championship by a point, defeating the second-placed team away from home in our final match. We won that game by a goal-to-nil, and felt as heroic as the hobbits at the end of that trilogy.

So Syrus was unlucky. He was a spectacular player, but came to our team at the wrong time. Nine of our title-winning team graduated at once, leaving only a gaggle of callow freshman, a couple of us and him, the warrior for the cause. Syrus was two-footed, capable of being both elegant and abrasive, as likely to dribble through traffic as he was to play a subtle but decisive ball through the lines. And that was his curse: to be obviously brilliant in a sub-standard team.

And that, by turn, is Michael Carrick's problem. You see, Carrick is not obviously brilliant. If you watch a musical about the Victorian era, he is the chimney-sweep. Understated, therefore underrated. He is every back four's Jiminy Cricket: he is the defence's conscience, reminding them to track back when they lose direction. And that's his problem.

See, Carrick's job is inherently unsexy. He's the guy that makes sure that all his drunk friends get home safe from their big night out. He's a gatekeeper. He's a traffic warden. And maybe that's why he doesn't sit as swiftly or deeply in the affections of the most committed Manchester United fan as someone who is more obviously passionate. Like, say, Roy Keane.

Michael Carrick is no Olly Syrus. His veins don't burst from his neck when he tackles. The more I think about it, Syrus was our college's Roy Keane. He charged into each tackle like he cared. But Carrick?...Carrick is all elegant, angles, picking off opposition passes with the dispassionate precision of a paediatric surgeon. And that's unsettling -- to have a midfielder so apparently diffident at the heart of one of Europe's most energetic teams.

Yet Carrick, at the beginning of the 2006-07 season, was precisely what Manchester United needed. Replacing the reassuringly buccaneer spirit of Keane, he was the patient deep-lying playmaker who enabled his team to break Chelsea's stranglehold on the Premier League. It is highly arguable that he, more than any opposite player, helped to precipitate the departure of the Portuguese master from Stamford Bridge.

This is why, at the close of the 2012-13 season, Carrick's nomination for PFA Player of the Year should be treated with respect, if not adulation. In the words of Nate Dogg's famous chorus, he is in the midfield in order to "regulate": and, throughout this crucial season for his club, he has consistently done that.