Falcao deal the most defensive of moves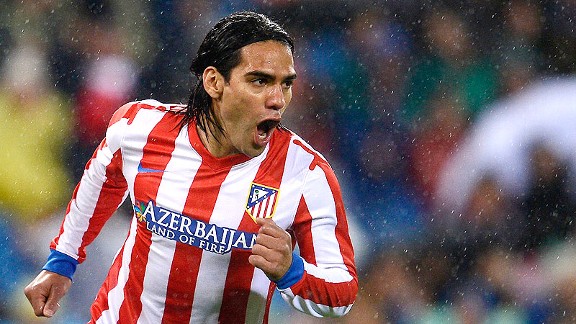 DANI POZO/AFP/Getty ImagesNot only would a Radamel Falcao signing bolster the Manchester United attack, but it would deny rivals Manchester City and Chelsea of another striker they deeply desire.
And so the rumours grow that Falcao, the Atletico Madrid forward, may be on his way to Manchester United. The Colombian international is perhaps the only person on Earth who could claim to be a more dangerous penalty-box presence than Leo Messi or Cristiano Ronaldo. A sum in the region of £40-50 million has apparently been discussed.

Following the overwhelming success of Robin van Persie's transfer last summer, a move decisive in restoring Manchester United as the Premier League's front-runner, a signing of Falcao should not be treated with scorn. The gaps in Manchester United's midfield need to be addressed, as does the notably mediocre form of almost all of their wingers, but the fact remains that they have managed a 12-point lead in the league despite major failings in both areas. The lesson is clear: An exceptional strike force will suffice to paper over these cracks, in the domestic league at least.

- Hernandez happy despite lack of starts

Much has been written of the threat that Falcao's arrival would pose to Wayne Rooney. The forward with most to fear, though, may be Javier Hernandez. Though the Mexican has maintained his impressive strike rate for club and country this season, the team is markedly less fluid when he starts (as opposed to, say, Danny Welbeck). Sir Alex Ferguson may be considering his exchange along with a sum of money for Falcao, a deal that looks attractive given the subtle signs of weariness that Rooney and van Persie have shown this year. Given that Welbeck still looks some way from bearing his team's attacking burden, a Falcao deal looks like smart sense.

One might wonder where this leaves Shinji Kagawa, the midfielder whose highlights this season have been fitful. Kagawa operates best as the central playmaker in a 4-2-3-1 formation. With another world-class forward potentially joining the roster, it looks like another few uncomfortable months on the bench or on the wing.

Indeed, both Kagawa and Welbeck have been adversely affected by the fact that Manchester United are still a team in transition. They should be reassured, though, that they are central to Ferguson's long-term plans. In any case, their chagrin will not overly concern the Scotsman, whose immediate priority is breaking Manchester City's momentum by denying them titles.

The acquisition of Falcao will therefore merely be one more step in the Premier League arms race for the world's best forwards. Manchester City can already boast Carlos Tevez and Sergio Aguero, and Manchester United cannot rely on another fairly indifferent season from the latter player. Indeed, Aguero signaled his return to form with a superb strike to win the local derby at Old Trafford, a result that will make United's title run somewhat more anxious than it should be.

To secure the signing of Falcao would be to deny City a man who would automatically make them the favourites for next season's Premier League title. It would also ward off Juan Mata's Chelsea, who are one elite centre-forward away from being an excellent contender. The irony, then, is that this transfer -- though attacking in appearance -- is perhaps the most defensive of moves.