Chelsea prevail in day to forget for United
This was the match nobody wanted to play. Shoehorned into an already busy fixture list, Chelsea prevailed against Manchester United 1-0 at Stamford Bridge and maintained their incredible record of not losing an FA Cup game at home for 10 years. An out-of-sorts United now have just the league to play for, and their FA Cup drought will continue for another year at least.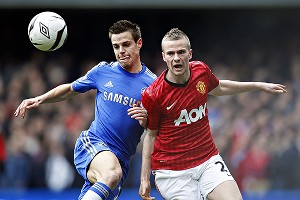 Ian Kington/AFP/Getty ImagesAfter their loss at Stamford Bridge, United only have the league title to play for now.
This was a game brimming with subplots before kickoff. Sir Alex Ferguson and Rafael Benitez are not the best of friends and both were desperate to win the match. Before Benitez was even the manager in this parish, the two teams had played out an exciting pair of games in October, scoring 14 goals in the process. The league match of that pair had finished with a screaming match in the referee's changing room. There is no love lost between these sides.

Rio Ferdinand was abhorrently booed every time he touched the ball by the Chelsea fans. However, a man who didn't feature at all here dominated the thinking as the match got under way.

Wayne Rooney's absence from Manchester United's match-day squad can only be read as significant. Shortly before kickoff Sir Alex Ferguson reported that the striker had picked up a small groin injury while on duty with England. He returned to his club five days previously and no mention was made of it before. Considering United have needed to stretch their personnel over the past few days, more than a few eyebrows were raised.

Rooney would certainly have been able to improve the quality of United's first-half display. Both teams appeared weary and passes were going astray. Chelsea started with slightly more gumption but neither side had any fluidity to its play. Half-time was a relief for everyone, not least Nani, who had a half to forget with a penalty appeal turned down and an ineffective display on the wing.

Although the game was low on quality, Demba Ba's opening goal was close to magnificent. Juan Mata dinked in a speculative ball, which the striker volleyed home. United's back four held a steady line and it would be harsh to blame David de Gea. It was simply a great goal.

United responded patiently and started to push forward with more cohesion. A sharp cross from Danny Welbeck beat the Chelsea back line and found Chicharito bearing down on goal. His header was palmed away by Petr Cech with the kind of reactionary save that can define entire matches.

Shortly afterwards Ferguson rolled the dice. Ryan Giggs put Nani out of his misery, and Robin van Persie replaced Tom Cleverley. The immediate effect of these changes was Mata surging forward again and going within a whisker of putting Chelsea two up. It was starting to look like it might not be United's day.

As the match wore on RvP narrowly missed two chances to equalise, once not quite connecting with a header and on another over-connecting with a volley. Chelsea continued to commit men forward and leave themselves open at the back, but United couldn't take advantage.

As stoppage time began to tick down, van Persie placed another header agonisingly close but it proved to be United's last good attack of the match. Chelsea march on to the semifinal of the FA Cup at United's expense. Neither side will look back on the contest with any fondness.

Follow Mark on www.twitter.com/markjpayne