A bittersweet evening for Wilfried Zaha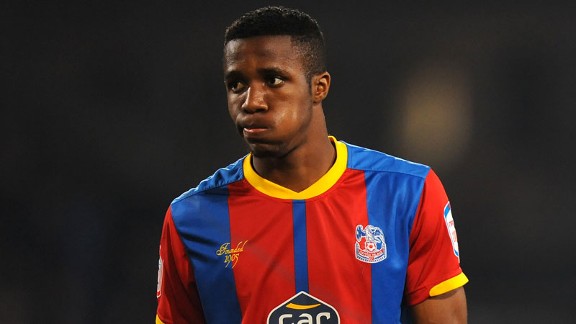 PA PhotosWilfried Zaha was loaned back to Crystal Palace after signing for Manchester United in January.
Sunday night at the Football League Awards was a bittersweet evening for followers of Manchester United. The good news was that Wilfried Zaha, who will arrive at Old Trafford in the summer, was nominated for the Young Player of the Year Award. The bad news, as it would sadly transpire, was that he would lose out to Tom Ince, the Blackpool forward whose father Paul was so influential in Manchester United's midfield in the mid-Nineties.

- Awards highlight Premier League youth failings

Given the season that he is having, Zaha could reasonably have expected to have taken home both the junior and senior Player of the Year titles, so to wander away empty-handed must have left him very disappointed, at the very least. However, with the career that he clearly has ahead of him, he should one day reflect on this evening as little more than a speed-bump.

After all, Zaha had starred only a couple of days previously in an England Under-21 international against Romania, where he scored and claimed man-of-the-match honours in a 3-0 victory. During that performance, he reminded Manchester United's supporters why they should welcome him with excited voice.

He has that rare ability to venture through a crowd of defenders: approaching men three at a time, he can part them with a carefully-shrugged shoulder and a smart snap of the ankle. It is this element of fantasy that has been missing from his future team's wing play this season, with Nani often out of sorts, whilst Ashley Young and Antonio Valencia have offered a great work ethic but little spectacle.

It is no coincidence that Angel Di Maria, the leading assist maker in the UEFA Champions League, is also one of its most thrilling dribblers, and it is Zaha's similarly quick feet that will be a huge asset for Sir Alex Ferguson.

Much is made of the "rawness" of Zaha's talent, given that he does not turn 21 until November, but this might be slightly overstated. He has already played over 120 times for Crystal Palace, and has acquitted himself in outstanding fashion in perhaps the most cut-throat promotion battle in the world. At the moment, he is playing against defenders to whom he is far superior and so showboating is to be expected: just as it was from Cristiano Ronaldo, who was so dominant in England that his procession down the wing was akin to a hurricane trailing tumbleweed.

What is also interesting is that he has recently been used as a central striker by Stuart Pearce for the England Under-21 side, which illustrates his versatility and perhaps foreshadows his future as the point of the attack for United. This migration, of course, has already been made by Gareth Bale and Cristiano Ronaldo, and it is intriguing to see whether Ferguson sees him in this focal role.

For now, though, Zaha has a more immediate challenge on his hands, with his Crystal Palace team in the playoff positions, just three behind Hull City in the automatic promotion spot. A seasoned follower of theirs recently expressed his concern to me that Palace's defence will see them fall short, but that would be nothing to diminish the impact that Zaha has had this season. As he sauntered trophy-less out into the cold London evening on Sunday, it was safe to assume that this shyest of superstars would never again make such a quiet exit.