Could Beckham have played in the middle?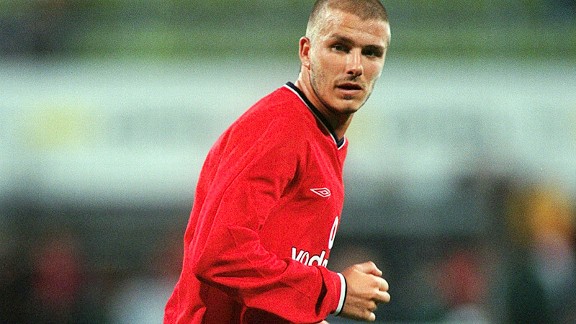 Alexander Hassenstein/Getty ImagesMany believed David Beckham lacked the speed of thought to play in the center at Old Trafford.
Michael Owen has just announced that he is to retire from professional football at the end of this season. The former European Footballer of the Year, who starred for -- among others -- Liverpool, Real Madrid and England and scored consistently for pretty much whoever fielded him, still had a career which, to the historians at least, will seem oddly unsatisfying.

This is partly because he was so brilliant so young. Yet it is also because, as has been well-documented, he was a player whose limitations were swiftly revealed. Owen's excessive reliance on pace meant that markers soon learned to stand a few yards off him, reducing his effectiveness somewhat. When teams then made tactical shifts that saw them play with only one striker, then a mixture of Owen's waning pace due to injury and his failure to develop playmaking skills saw him increasingly marginalized, to the bench or beyond.

David Beckham is another player whose apparently limited skill set threatened to set back his career. Beckham flourished at Manchester United in a 4-4-2 formation, enjoying an outstanding year -- probably his finest in club football -- as Manchester United claimed a treble of Premier League, FA Cup and UEFA Champions League in 1998-99. Though he would come to be regarded as a more predictable force, lacking pace or trickery in wide positions, he would still go on claim a league championship at Real Madrid before departing for Major League Soccer in his early thirties.

There is one question about Beckham's versatility, which is largely of academic interest, and that is whether he could ever have played effectively as a central midfielder. He played in that position in a 4-4-2, alongside Nicky Butt in the 1998-99 UEFA Champions League final, but he was often regarded as lacking the speed of thought and foot to thrive in that area. However, he may simply have been born out of time. Watching Xabi Alonso excel in a deep-lying defensive midfield role for Real Madrid and Spain, one wonders how good Beckham might have been in a similarly withdrawn role, like that in which Michael Carrick has been outstanding this season. Beckham was feared for his crossing ability, but another formidable weapon of his was the crossfield pass, also a trademark of Alonso, with which he released left wingers on the counter-attack. His passing range and accuracy over such distances compared favourably with that of Andrea Pirlo, who of course is the leading exponent of this role.

Beckham was once deployed in this "quarterback position" by England, in the infamous 1-0 defeat to Northern Ireland in a World Cup qualifier in September 2005, and the experiment was quietly retired after that. It was not the night to try a formation so ambitious, and the poor form next to him of Steven Gerrard and Frank Lampard -- with whom he had been crowbarred into the same midfield -- did not help matters. The Pirlo role, such as it is, requires not only excellent distribution both long and short, but the awareness to keep the ball moving -- what the Dutch coach Rinus Michels called "circulation football" -- and a keen positional sense. Defensively, Beckham struggled against Zinedine Zidane and Roberto Carlos, either through their pace (in the latter case) or being too readily drawn into challenges (in the former). Perhaps he would have struggled if regularly deployed here at the very highest level. However, it would have been exciting to see him lining up alongside, say, a player with the energy of Tom Cleverley, in a 4-2-3-1 formation, launching more of those long left-to-right through-balls into the Old Trafford night. Then again, given the countless memories that he gave to Manchester United fans, it would perhaps be greedy to wish for more.