Looking back at Kleberson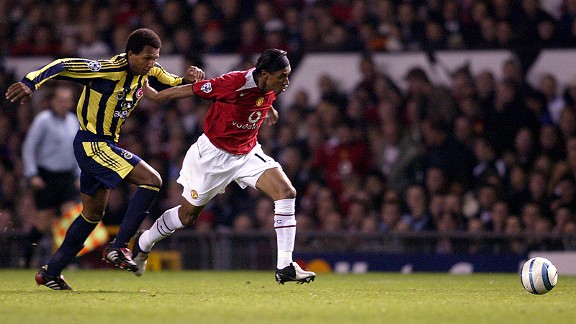 PA PhotosWorld Cup-winner Kleberson in action for Man United in 2004
There are times when Sir Alex Ferguson could really do with a time-machine. If he'd had one, he could go back to August 2003, and snatch Kleberson from the Old Trafford training-ground. The previous season, the Brazil midfielder had won the World Cup with his country, a tournament in which he had been one of the key influences. Ronaldo gathered the most headlines for his eight goals in seven matches -- though Rivaldo was arguably the greatest creative force -- whilst behind them both, largely unheralded, Kleberson toiled quietly away.

- Silverware finally in sight for Young

Well, perhaps not so quietly. In the final he struck the crossbar with a curling strike from 30 yards, the culmination of his play from previous rounds which had seen him advance ever further up the pitch. Kleberson had been promoted to the team in place of Juninho, who was in good form for his club side but whose movement upset the balance of his national team. And so the Atletico Paranaense midfielder was introduced against England and retained his place until his country claimed the trophy.

Kleberson's time at Manchester United, where he played only 20 games in two seasons, was a disappointing patchwork of injury and poor form. It is hard to contrast that period with his imperious form in Japan and South Korea, though there have of course been several players -- for example, Salif Diao -- who have wandered from outstanding World Cup tournaments into Premier League mediocrity. There is one view that Kleberson was simply not good enough for Manchester United.

A more charitable approach is that he was simply there at the wrong time. What United needed then was players who could anchor the base of midfield; now, mostly playing either a diamond formation or a 4-2-3-1, they frequently need someone in central areas to break forward from their position alongside Michael Carrick. Kleberson thrived in this role at the World Cup in 2002, starting deep in a 3-4-1-2 next to Gilberto Silva and surging on to supply Rivaldo, Ronaldinho and Ronaldo. The role of "the shuttler", as we can call it, has been elegantly played in the past by Clarence Seedorf and its finest exponent at present is Arturo Vidal of Juventus; Kleberson was more of an artisan than either, but his excellent engine could have served United well this season.

Kleberson is now 33 and back in his home country, having had a relatively underwhelming career since he left Old Trafford; a couple of average years at Besiktas, then a good run of form back at Flamengo, followed by spells at Atletico Paranaense and Bahia. He's not the only shuttler to have made a merely passing impression, and he won't be the last.

The question is whether United are on the lookout for his kind this summer in a market which will include, perhaps most intriguingly, Kevin Strootman of PSV. Of course, Kleberson's own countryman Anderson has long been hoped to fill this role, but due to a blend of poor discipline and fitness it has not yet truly happened for the former Porto man. And so, with 10 games to go in the league season and a tiring midfield, Ferguson might wander off in search of that time machine and wonder what might have been.