Honours even as United move on to replay
<!-video-->Manchester United were wounded badly against Real Madrid and desperate to take on Chelsea in this cup tie and put their Champions League setback behind them. Despite an authoritative first half from United, Chelsea came back to draw 2-2 Sunday and force a replay after this excellent match at Old Trafford.

-- Match report: Manchester United 2-2 Chelsea
-- Tyler: More questions after draw

Following his omission on Tuesday, Wayne Rooney spent the week starring at headlines he would rather not. Sensibly, he decided to let his football do the talking Sunday and put in an energetic performance covering a lot of ground in search of the ball. If it had been Sir Alex Ferguson's intention to motivate him, it appeared to have worked. The fans sung his name vociferously.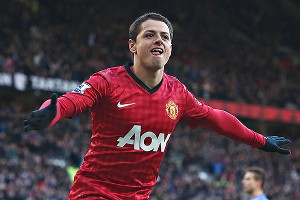 John Peters/Getty Images Javier Hernandez gave Manchester United an early lead, but a second-half stumble means a replay at Stamford Bridge.
Chelsea's FA Cup record is imperious -- they have won 37 of their past 38 FA Cup ties and picked up four trophies in the past six years. That run started to unravel after five minutes. Michael Carrick throttled the ball forward for Javier Hernandez to score a wonderful looping header that left Petr Cech watching helplessly. The memories of Madrid will be hard to banish, but United were at least getting on with things. They continued to do so.

Five minutes later, Rooney's in-swinging free kick managed to fool everybody and bounce in innocently at the far post. Cech was having a nightmare. Both sets of fans started to sing "you're getting sacked in the morning" in unison. Rafa Benitez was back.

It is entirely possible that Benitez is a difficult man to like. However, nobody deserves sustained abuse from thousands of people for going to work. English football is often a wonderful place, but there are occasions when supporters let themselves down. Blackburn fans' treatment of Steve Kean was one such instance, Chelsea supporters' attitudes toward Benitez are another.

Cech decided that the first half was too early to fall behind three-nil and made a superb double save against Rooney and on an alarming header from David Luiz. That seemed to galvanise Chelsea somewhat and, although United were still the most dangerous attacking side, they began to make inroads in the midfield.

The first half finished with the sense that United were stronger but a goal from Chelsea could make things interesting. After an hour, a goal from Chelsea arrived, and an absolute beauty, too. Eden Hazard curled a shot around David De Gea from 25 yards from the left corner of the box. It was an unstoppable and beautiful strike. In order to keep control, United needed to respond. Robin van Persie came off the bench.

The Dutchman had barely had a touch when Ramires scored an excellent equaliser for Chelsea. Skipping toward the United goal from the right flank, he finished clinically to level the match. Chelsea's stranglehold over the midfield was starting to pay dividends. Indeed, they completely dominated the second half and United started to look decidedly creaky after a big week.

Players on both sides looked tired, but there were moments sublime all over the park. The level of skill on offer from these teams is stratospherically high at times. At 90 minutes, Juan Mata took a looping cross on his right foot in the United box and fashioned a shooting opportunity, only for De Gea's outstretched leg to deny him. Both players showed miraculous composure in tight space.

Chelsea were utterly superb in the second half, and unlucky not to claim victory in the dying minutes with several good chances. De Gea was required to make three more saves before injury time was completed and United were hanging on by their fingernails at the end, but hang on they did.

This was not the victorious catharsis that United needed, but at least they were spared the indignity of being dumped out of a second competition in five days. They live to fight another day and have nearly a full week to regroup before their next fixture. Their interest in the FA Cup lives on and both of these teams seem to have a point to prove. The replay at Stamford Bridge promises to be a fascinating encounter.

Follow Mark on Twitter @markjpayne