Kagawa form gives Fergie tactical quandary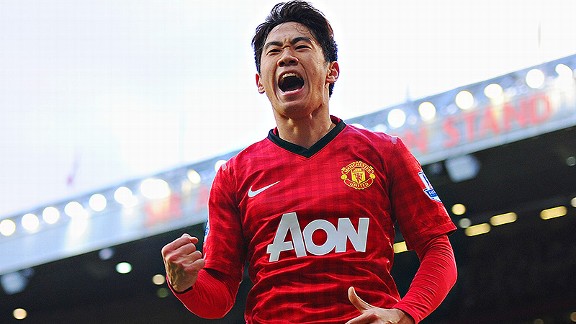 Michael Regan/Getty ImagesShinji Kagawa scored three goals from a position that is not his forte
Old Trafford, being the Theatre of Dreams, calls upon its finest actors to produce works of fantasy. On Saturday, in Manchester United's 4-0 victory over Norwich City, the stadium played host to a show by a Japanese magician. Shinji Kagawa's hat trick, the first by an Asian player in the Premier League, was significant not just in that wider context: It also marked the first time that the young midfielder had claimed this stage as his own.

- Payne: United see off Canaries as Madrid await
- Davitt: Norwich succumb to Rooney's brilliance

Arriving this summer from Borussia Dortmund, where he had been arguably the key creative force in the Germans' procession to a league and cup double, he had previously offered only the odd promising cameo. Here, though, he was the most compelling of protagonists. His goals, the first three of the afternoon, were dearly needed. Norwich had defeated Manchester United at Carrow Road, out-passing and out-running their visitors, and so were not a proposition to be lightly dismissed.

Sir Alex Ferguson knew well how swiftly a large league lead could evaporate, and emphasised the importance of keeping that 12-point advantage by naming a strong side. Even with Real Madrid awaiting in the Champions League, he named Robin van Persie, Wayne Rooney, Michael Carrick and David de Gea in the starting lineup. Of course, he also named Kagawa.

The conventional wisdom was that he included the Japan international in order to rest Ryan Giggs, who has been in resurgent form of late. But Kagawa's pedigree as a match winner has been long known in German football. There, he scored almost a goal every two games in the Bundesliga (29 in 70 matches, along with 15 assists in the same period), and accompanied that impressive scoring record with an excellent work rate in defence.

It is notable that he scored three goals here from a position that is not his favourite: He began wide on the left, ahead of the in-form Nani, whilst his best form has traditionally come as a second striker or as the central playmaker in a 4-2-3-1. It is a very good sign of his diligent movement that each of his goals arrived in the inside-right position, showing his willingness to make deep and diagonal runs into the opposition area.

Prior to his hat trick, Kagawa had struggled to hit top form so far this season, a fact acknowledged by Ferguson in the postmatch interviews. Not only was he not given a fixed position each week, but he also suffered an injury that kept him out for a month or so before Christmas. Now he is fit again, and far better acquainted with his teammates and the runs that they like to make; there were hints of this understanding earlier in the season, but what he did against Norwich -- linking sharply and quickly with Rooney and Van Persie -- was particularly encouraging.

Given Rooney's seniority on the squad, it is unlikely that Kagawa will regularly be given his preferred central role for some time, but that should not be too much of a problem. He has shown, after all, that he can provide penetration from wide on the left. Moreover, his defensive work and tendency to drift infield is good news for the overlapping Patrice Evra, who knows that he can both surge forward and rely on his teammate to double up with him if he is caught out of position.

Kagawa is also excellent at retaining possession, an asset that he has shown from his first day in a United shirt. His removal against Liverpool at Old Trafford, when he was found flagging after an hour or so, coincided with their sustained period of pressure in the closing stages, as there was no one to return from attack and fetch the ball from Carrick.

On Saturday, whilst Rooney posted an underwhelming pass completion of just 79 percent, Kagawa managed one of 92 percent. Indeed, his performance was the picture of efficiency: He also found time to create three chances for his teammates, and his three goals came from three attempts. Kagawa's inclusion with Rooney in the starting 11 does create one problem, though: Since he is primarily a ballplayer and not a dribbler, it places a greater onus on the other wide player for a more disruptive form of creativity, someone to run at opponents and send in crosses from the byline. So far this season, none of United's wingers have done this with any consistency, which is why there has been much talk that Porto's James Rodriguez will arrive in the summer.

Though United's careful passing eventually pried apart the Norwich defence, there will be games when the home side's own brand of tiki-taka will not be enough to break through the rearguard. All in all, though, Kagawa has created the right kind of problem for Ferguson, who must now consider whether to start him against Real Madrid in the second leg of their UEFA Champions League tie.

The nod should still go to Giggs, who can provide the penetrative dribbling that will be needed to trouble the fairly defensive Alvaro Arbeloa at right back. But Ferguson has said that Kagawa will play a role; and on this form, it would be unsurprising if that role is a decisive one.