Forlan's finishing school at Old Trafford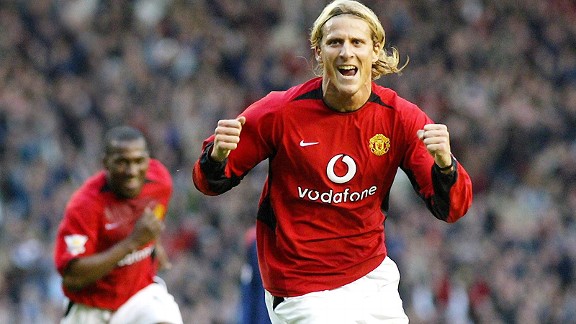 PA PhotosDiego Forlan: Remembered for his goals in some parts of the globe, and his drought elsewhere.
There are few things stranger in Manchester United's recent history than the time which Diego Forlan spent at Old Trafford. The Uruguayan will end his career as someone who, during his peak, was one of the best strikers in the world; he arrived from Independiente with a fantastic reputation, and would go on to be named the player of the tournament at the 2010 World Cup. Yet his later rise to global prominence would not have been predicted by anyone who watched his early games for United. Forlan failed to score for his first 26 games, and only netted his first after begging for a penalty in a 5-2 win over Maccabi Haifa in the UEFA Champions League. His finishing in the intervening period had been a mixture of one part utterly unfortunate to two parts thoroughly miserable.

Forlan illustrates the fear that forwards sometimes have of scoring goals at the very highest level. Most of the teams for which he has flourished - Villarreal, Atletico Madrid, and Uruguay - have been teams which were outsiders, usurpers, threats to football's established order. But he also enjoyed success at Independiente, where his strike-rate of a goal every other game over eighty matches encouraged Manchester United to shell out almost £7 million for him. For his first eight months at Old Trafford, he mostly appeared overwhelmed.

It is perhaps remarkable that Ferguson kept faith in him for so long. Of course, a multi-million pound investment should not be so lightly shelved, but it must have been tempting: one suspects that there must have been a huge difference between Forlan's accuracy on match-day and on the training-ground. Fortunately, and eventually, he found some form. During a three-game sequence, featuring wins over Newcastle, Arsenal and Liverpool, that was deemed decisive to his team's successful championship challenge, Forlan excelled. He scored twice in a 2-1 win at Anfield, and then later in the year struck a last-minute half-volley to steal a 2-1 victory over Chelsea.

His two-and-a-half stay, though, was punctuated by further long periods without goals, with double-game droughts not uncommon. Rarely can a major forward have had such fluctuations in self-esteem. After all, a video of the 17 goals that Forlan scored in 98 appearances for Manchester United reveals an array of sumptuous finishes with the head or either foot; these were promising elements that Forlan was to bring thrillingly together in La Liga, where he went on to become Europe's leading goalscorer on two occasions and to form an exceptional partnership with Sergio Aguero, a duo of which he was often the more ruthless member.

It might be better to view Forlan, as United at that time, as in transition. Though the Old Trafford side continued to win league championships during his time there, it was some time before they would win again in Europe; they were painfully adjusting for life at the game's summit. So, on reflection, was Forlan.

The soft landing of a move to Villarreal in 2004, where he found far more comfortable surroundings, allowed him to go on and become a forward who in the 2008-09 would find the net 35 times, for Atletico Madrid. Old Trafford would not mourn his departure, as its fans were still enjoying the emergence of Cristiano Ronaldo as the door swung shut behind the Uruguayan, but it can claim to be the place where he cut his set of surprisingly sharp teeth.