Rafael delivers at both ends as RVP limps off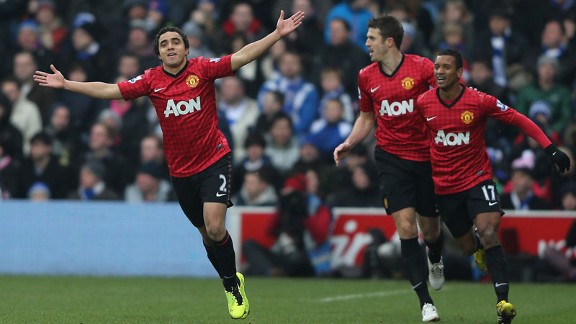 GettyImagesRafael gave Man United the lead against QPR
Manchester United increased their Premier League lead to 15 points with a 2-0 win at QPR in which the home team barely threatened them. The Londoners made several additions to their squad in the January transfer window, including £100k-a-week Christopher Samba for £12.5 million from Anzhi, but they failed to add much fighting spirit to the mix.

- Brewin: United turn screw in title race

United began in a 4-4-2, with Nani starting on one wing after his match-winning show in the FA Cup against Reading on Monday. Ashley Young was on the other flank, with Michael Carrick and Ryan Giggs, making his 999th professional appearance, in the centre. Robin van Persie and Javier Hernandez were up front.

It was a slow start from the league leaders. They lacked dynamism in the early exchanges, perhaps missing the energy of Tom Cleverley, and several passes were misplaced, although not in dangerous positions. Meanwhile, they hit too many balls long and inaccurately, but QPR seemed unwilling or unable to force the initiative. The trouble should have come from Adel Taarabt, but he was elegantly ineffectual in possession. It was Hernandez who raised the pace, having a header tipped over by Julio Cesar after a quarter of an hour, then a few minutes later narrowly failing to reach a fine cross from the right by Nani. Otherwise, though, he and van Persie were somewhat out of sync, either drifting offside or failing to find each other with fast return passes.

Fortunately, after watching his forwards falter, Rafael came gloriously to the fore. A quarter of the match had passed when van Persie cut down the right and into the area, where his tentative effort was cleared only as far as the edge of the area. Here Rafael arrived, surging onto the ball as it rattled towards him over the patchy turf, and crashed an astonishing drive into the top right-hand corner from 25 yards. Cesar gazed at it in disbelief.

That goal, however, did not give United any great aura of supremacy. Ten minutes later, Rafael cleared off the line; then, in the very next passage of play, he tore forward and floated a delicate diagonal pass into the path of van Persie, whose side-footed volley was palmed away by Cesar.

The first half's other main incident was the withdrawal of van Persie with an injury suffered shortly before Rafael's opening goal. The Dutchman limped off, to be replaced by Danny Welbeck; with the return leg of the UEFA Champions League tie against Real Madrid, it made sense not to risk him further.

In the second half, things continued much the same. Carrick confiscated the ball in midfield, and, with Esteban Granero taken off, QPR lost what fluency they might have had. Loic Remy briefly offered danger when he came on for oddly static Bobby Zamora, requiring a good low save from David De Gea, but otherwise the Spaniard spent the afternoon sightseeing. Wayne Rooney was brought on in place of Hernandez as United pressed for the second goal that would allow them to relax, and it came with 15 minutes to go. As in so many seasons past, the left foot of Giggs proved decisive. After Welbeck had won possession, he slipped the ball to Nani, who laid it down the left channel for overlapping Giggs. Cutting in, he thrashed the ball past sprawling Cesar at his near post. Game over.

The closing minutes had the air of a Sunday afternoon stroll as United passed through a deserted midfield and Giggs found time to float a miscued strike against the bar. A job unfussily done, and a victory that was almost as comfortable as the journey back to Manchester will surely be.