Veron finds fairytale away from Theatre of Dreams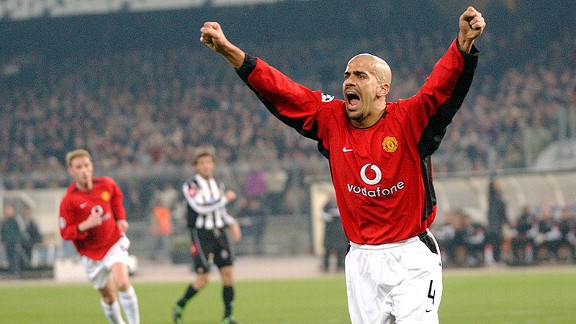 Ryan Giggs/Getty ImagesJuan Sebastian Veron had his share of struggles playing in the Premier League, but he excelled for United in Champions League matches, like in this 2003 contest versus Juventus.
Almost everyone has an ex with whom they wish things had gone better. Sometimes, we will feel that we were to blame for the break-up. And, in such cases, we will always be a little anxious to see that he or she ends up happy. Football clubs and their star signings are no different. There is always something wistful about the on-pitch romance that doesn't quite work out.

For Manchester United fans, Juan Sebastian Veron can claim to have been Old Trafford's most mistreated sweetheart. When he came England in 2001, for the then otherworldly sum of 28.1 million pounds, he had recently led Lazio to their first Serie A title in over 40 years. He could also claim, during that victorious 1999-2000 season, to have rivalled Zinedine Zidane as the best central midfielder on the planet.

How far he was to fall.

Two years later, his standing in the game much diminished, he was to leave for Chelsea for 15 million pounds. His value had halved, and in truth he looked less than half the player he had on his arrival. His spectacular debut against Everton in September 2001, where he had scored after just 21 minutes in a 4-1 win, was the false promise of a joyful union. Far more representative of his time at Old Trafford was his team's 1-0 defeat at home to Middlesbrough, where his misplaced pass led to the only goal.

It is widely accepted now -- indeed, it was much suspected at the time -- that Veron simply did not fit within that team, perhaps not even in that league. At Lazio, and at Parma before that, Veron had always had a midfield minder who would watch his back while he did his wondrous bidding. But he was to find no Diego Simeone or Matias Almeyda in Manchester. Here he was often to find himself at the heart of a 4-4-2 formation with Roy Keane, whose bursts forward frequently left him exposed. He also found himself effectively competing with Paul Scholes, who for several years had been excelling in a similar position. Nor was he the undisputed set piece taker, since David Beckham at that time probably delivered the best free kicks in the world.

The only times that Veron truly seemed comfortable in a Manchester United shirt was not in the Premier League -- the pace of whose matches visibly bewildered him -- but in the more sedate surroundings of the UEFA Champions League, where for a time he excelled. There he scored magnificent goals and provided superb assists both home and away, and it was only then that the relationship ever seemed that it was going to work.

Veron did leave Old Trafford with some great domestic memories, though. There was his second season, in which Manchester United regained the league championship from Arsenal, and where he starred against the Londoners in a pivotal game at home, scoring and controlling the play in a 2-0 win. But this cathartic man-of-the-match performance would not be enough to save him. With Scholes still earning his keep in the same stadium, Sir Alex Ferguson finally decided that he was surplus to requirements.

Following Veron's departure, several United fans kept a careful eye on his career, hoping that his career would have a happy ending elsewhere. Rather like Diego Forlan, who had endured a similarly wretched period at Old Trafford, Veron would find happiness in a Latin environment. While Forlan went on to become one of the world's most decisive strikers in the colours of Atletico Madrid and Uruguay, Veron eventually went back to Argentina and his first club, Estudiantes de la Plata. In 2009, with Veron as their outstanding player, Estudiantes won the first Copa Libertadores since Veron's own father -- a fine left winger -- had brought the title home in 1970.

It is very rare that players leave the Theatre of Dreams to find a fairytale elsewhere, but Veron will always be the most heartwarming exception to that rule. He went from Old Trafford to the happiest of marriages, and no one can begrudge him that.