Shot-stopper De Gea adds maturity to flair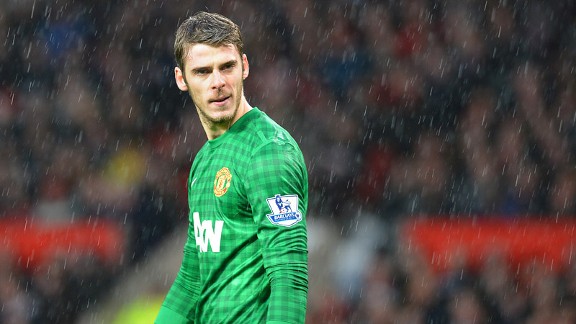 Andrew Yates/Getty ImagesGoalkeeper David de Gea came of age against Real Madrid
David De Gea, he saw, he conquered. First his own demons, and then the Bernabeu. Of the several outstanding performances by Manchester United players against Real Madrid, the young Spaniard's was the very finest. Phil Jones acquitted himself with distinction, and Danny Welbeck led the line with the refinement that we might have expected from Robin van Persie. Yet De Gea, who made eight saves on the night, is the primary reason the score finished Real Madrid 1, Manchester United 1. Had a lesser athlete been between the posts, this could have become a drubbing.

- Delaney: United building from the back
- Payne: De Gea heroics keeps tie on a knife edge
- Hunter: David de Gea puts on a masterclass

Funnily enough, the two teams were not so dissimilar in their passing percentages -- both in their mid-sixties -- although Madrid were comfortably ahead in terms of possession and always looked far more assured on the ball. In addition, the home side had twice as many attempts on goal as United. And yet, somehow, De Gea kept almost all of them out. In front of 100,000 baying fans, whose team can only salvage their season with this trophy, he repeatedly denied a front line containing Mesut Ozil, Karim Benzema, Angel Di Maria and Cristiano Ronaldo. The Portugal forward could only defeat him with a header that showed an utter disregard for the concept of gravity.

This season has been one when De Gea's composure has been questioned with regularity, and not without reason. To see goalkeeping legend Peter Schmeichel praising him after the match, you might wonder whether the Dane recognised in De Gea the elements of a kindred spirit. Each first-class goalkeeper, after all, has a time when they come of age. For Schmeichel, it may have been his string of performances for his country as they won the European championship in 1992. De Gea's time may not yet have arrived, but Wednesday night indicated that it is on its way. Very few other goalkeepers in the world could have denied Fabio Coentrao as he did, first with a magnificent full-length dive, and then with a flailing leg after he was forced to adjust midway through falling.

But that was merely the spectacular, and De Gea has always done that well. What was most encouraging was how well he accomplished the mundane: he held on to shots that swerved up at him through crowds, he got his body behind late-dipping drives, he parried balls square and firmly away. He has shown us flair before, but this was mature.

On a night when some of Manchester United's senior players, most notably Wayne Rooney and van Persie, were strangely peripheral, this deceptively frail 22-year-old gave his team a surprisingly firm foundation. To return to Old Trafford with an away goal in hand is an excellent result and the Red Devils can be cautiously optimistic that they will progress to the next round. There has been a persistent fear among the Manchester United faithful that Sir Alex Ferguson will lose faith in De Gea's ability to cope with aggression, rather like he did with Gerard Pique, and that the Spaniard will go elsewhere and excel. It has often been a seductive narrative, but after Wednesday night it seems that a hasty redraft is in order.